Southern France
White Wines of Southern France
White Wines of Southern France
Southern France produces many delicious white wines, particularly from indigenous and characterful grape varieties. From Gascogny, Ugni Blanc and Colombard dominate the excellent blends of Domaine de Pellehaut and Paul Boutinot's Louis Alexandre. From the Languedoc, Domaine Croix Gratiot produce wonderful Picpoul and Roussanne and Domaine du Poujol's Pico is a blend of Grenache Blanc and Vermintino. Chateau La Bastide produce a wonderful Corbieres from Vermintino, Roussanne and Bourboulenc, whilst Domaine de Rimauresq excellent white is 100% Rolle (Vermintino).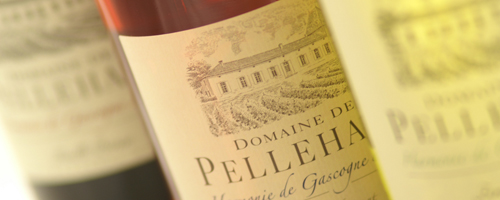 Displaying 1-10 of 12 results.
A blend of 80% Sauvignon Blanc and 20% Vermentino. The two grape varieties are harvested at different times of the year to ensure that they are perfect. Sauvignon grapes are harvested in late August and the Vermentino grape in mid September.

Domaine De Pellehaut Blanc is made up of a blend of 20% Sauvignon, 25% Colombard, 35% Ugni Blanc, 10% Chardonnay and 10 % Gros manseng et Petit manseng. The average vine age is 27 years old, this is a complex blend so it is best drunk two years after vintage to enjoy the full flavours.

A real treat! Delicious, 100% unoaked Chardonnay with ripe generous fruit and balanced acidity. Wonderful!

A full style, ripe Chardonnay from Domaine de Cassagnau showing rich stone fruits and citrus.

Domaine de Vedilhan is made by Boutinot, it is made of an 100% Viognier grape varitey. Temperature controlled wine making methods are used to keep the wines cool in the hot climate, this helps to keep the wine vibrant and fresh. The grapes are harvested early which helps preserve the acidity and delicate aromatics.

Grown in the foothills of the Pyrenees this 100% Chenin Blanc displays hints of caramel and brioche leading to a densely fruity peach palate with great texture and a clean, lifted finish.

Cream and honey on the nose. Great balance here: there is an underlying acidity that ensures longevity and elegance whilst intense, opulent stone fruit flavours fill the mouth without being clumsy or heavy.

100% Petit Manseng with sweet, succulent grapefruit and apricot fruit with clean, fresh acidity and a lingering finish. Perfect with fruit based desserts.

From an award winning Co-op, produced from vineyards of limestone soils. A lean, citrus nose with a balanced palate of mineral and citrus fruit.

Stunning value from the Beraut family of Domaine de Pellehaut. Beautifully ripe Chardonnay, 70% stainless steel fermented, 30% in oak. A ripe, bready, yeasty nose with golden ripe fruit and citrus acidity.