Palmers Draught Ales & Ciders



POLYCASKS & STAINLESS STEEL GROWLERS
The ales we currently have available in store are Palmers IPA, Dorset Gold, Palmers 200, Tally Ho! and The Dorset Pale and three Dorset Orchards ciders. They can all be purchased in 4 pint polycasks or 6 pint stainless steel growlers. The polycasks and growlers are non-returnable but they are reusable in Palmers Wine Store.

CASK ALE FOR YOUR EVENT
Nothing compares with traditional cask conditioned real ales drawn directly from the barrel. If you have an event or party planned with people who could drink 36 pints over a long weekend a cask of ale is probably the best option. A cask can be enjoyed over 3 to 5 days as long as you have somewhere cool to store it.

We supply all the equipment needed and can guide you through the art of serving your "traditional" real ale. Live casks need to be set up and conditioned for 24 hours before use or we can simplify things by making and supplying you with "bright" ale which does not need conditioning.

We can supply bright or "traditional" real ales Copper, Palmers IPA, Dorset Gold, Palmers 200 and Tally Ho! in firkins (72 pints) or pins (36 pints).

CASK ALE PRICES. There is a £50 deposit per cask, which is refunded when the cask and equipment is returned.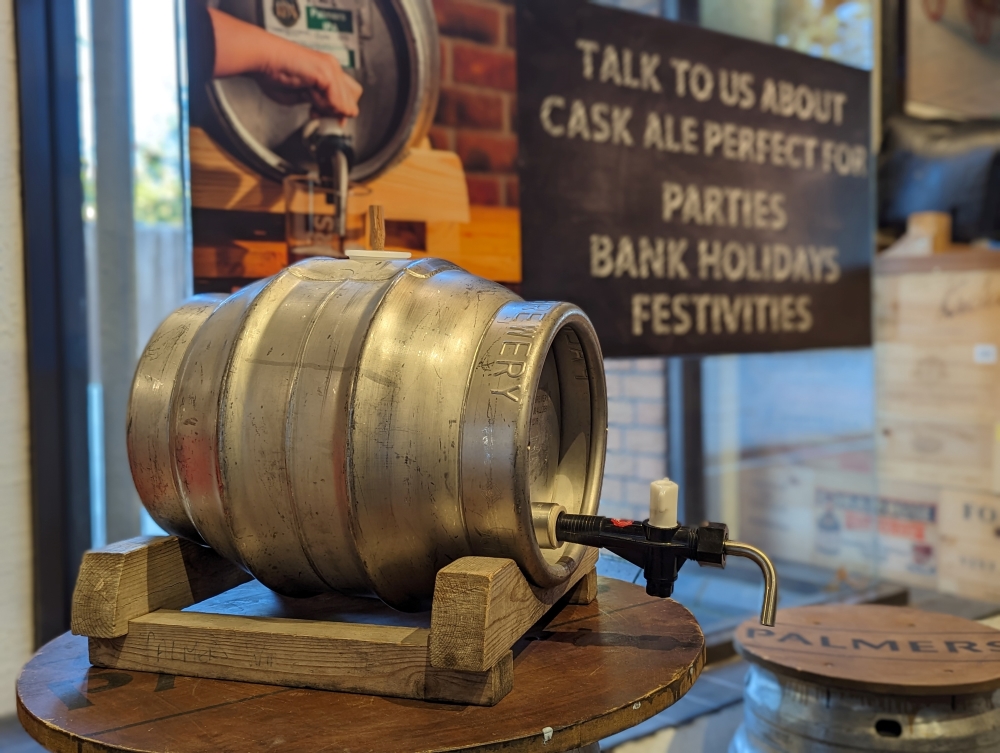 What is the difference between cask and keg?
Cask ale is a fresh, unfiltered, unpasteurised product which needs 'conditioning' before use.
It doesn't have as much fizz as lagers because it has no added gas. However, it does have a light sparkle, or 'tingle on the tongue'. This is from carbon dioxide produced naturally during the fermentation process. When the cask is delivered it needs to be left to settle, either horizontally on a rack (stillage) for 24 hours as it contains sediment. They can be served using a simple tap and gravity.

Keg lagers and ciders are filtered or pasteurised and they contain no live yeast. They are served under pressure which gives them more 'fizz'. They need a dispensing gas supply to push the beer out, a pump, and refrigeration.


If you would like to hire a bar and gas for kegs p

lease contact us at info@palmerswinestore.com or 01308 427500 to enquire about our current keg products, availablity, and prices.

What is "bright" real ale?
Initially, we brew our beer and "rack" it into casks, just like our traditional ale. At this point it still contains the live yeast that helps to add "condition" (a little bit of fizz) to the beer. We allow the yeast to settle in the cask and then we draw the beer off, just like in the pub, into a separate clean cask. The beer contains little or no yeast and is clear.
Please note that bright ale is made to order, and must be ordered in advance.
Why buy real ale "bright"?
Handling bright beer couldn't be simpler. As there is no yeast present, the cask can be moved at any point, right up to the point of serving, and there is nothing to worry about if the cask gets knocked or needs to be moved again.
Is there a downside to bright ale?
Not really. The main thing is that the shelf life of the beer is reduced. The yeast that's usually present in "traditional" real ale protects the beer from spoilage and an unopened cask will easily last a month or more if kept cool. "Bright" beer doesn't have this protection and so ideally it should be kept cool (11-13⁰C) and served 1-2 days after purchase. Once opened, it's easy, simply drink and enjoy, but aim to drink the cask dry on the day or at least finish it off the day after! Note, for traditional beer we would say drink within 3 to 5 days of purchase.

How to tap a cask

Bottled Ales