Isolation Tipples
We've picked out some of our favourite wines to enjoy over the festive season, perfect partners to your Christmas Lunch, indulgent sweet delights, fabulous vintage ports, plus some great gifts for ale enthusiasts.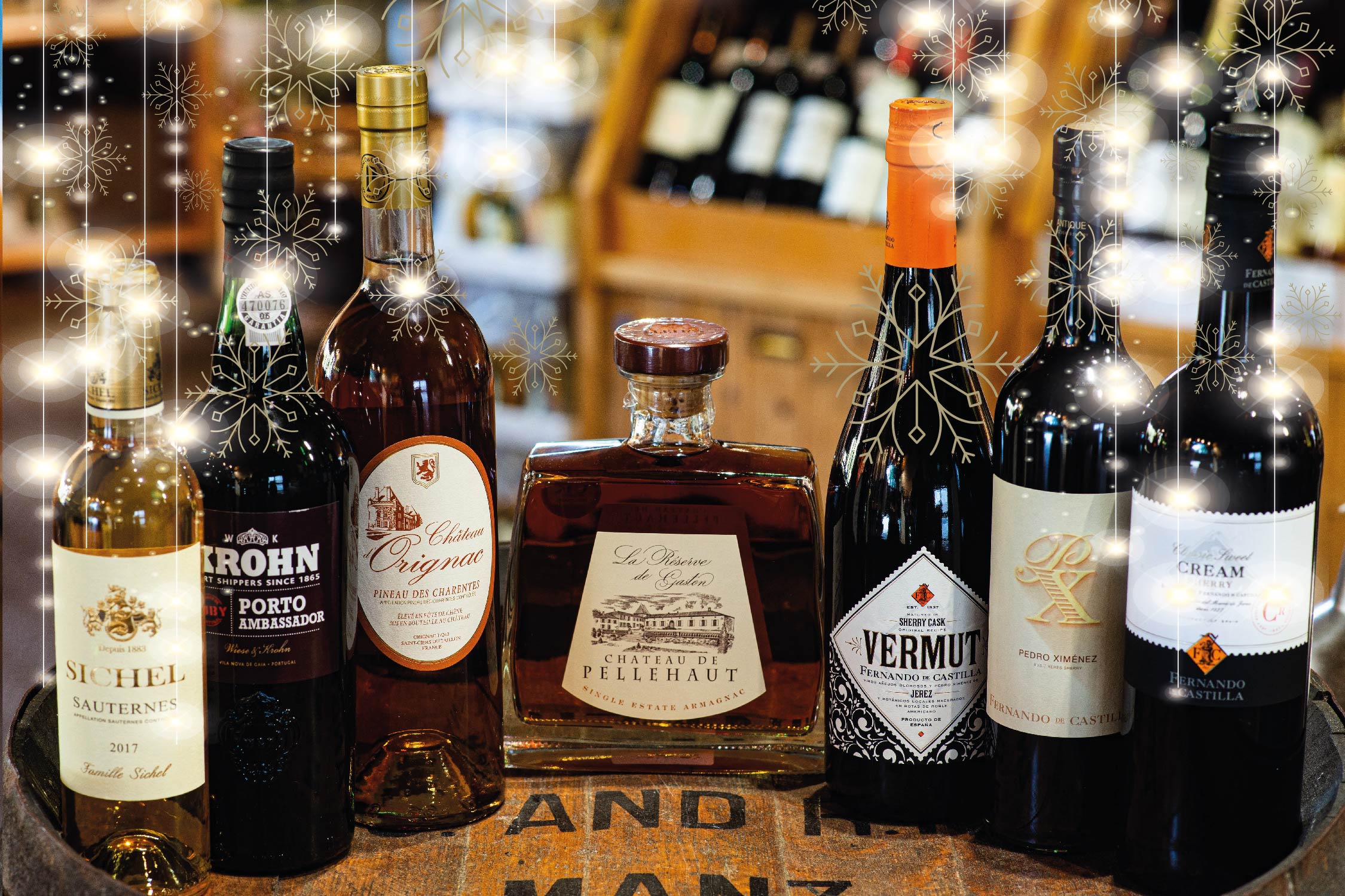 Everyone should indulge a bit once in a while, we have picked out some of our favourite sweeties to treat yourself to. Classic Sauternes from famous Bordeaux negociants, Maison Sichel, the fabulous ports of Weisse & Krohn (particularly the rare and special Colheitas). A delicious Pineau des Charentes from Chateau D'Orignac, a sublime mixture of Cognac and grape juice from western France where it is a popular aperitif, we particularly like it with cake.
The super, super sweet (450 grams per litre)
Antique PX
sherry from Fernando de Castilla must be one of the richest wines out there. The jury is still out but this may be the ultimate Christmas pudding wine.
Or at the other end of the spectrum the Vermut (Vermouth) from the same sherry house is a delicious blend of aged and spiced Oloroso and PX sherry - dried fruit and nut flavours, sweet and sour elements and bitter wormwood. Tastes like Christmas pudding in a bottle, enjoy long with soda, or short in an Iberian themed Negroni.
Displaying 1-11 of 11 results.
A fifty fifty blend of North British Distil

lery single grain and Glen Grant single malt. The two Whiskies are then married together in conjunction with quality spring water that descends from the Scotti

sh Highlands which creates a smooth, warm and delicious taste.

N/A
(1 x 70cl)
£29.00
N/A

Palmer's own brand new London Dry Gin, Seven Swans. Fresh, aromatic and citrusy, this is a premium gin made in a classic style. Our preferred serve is over ice, with a generous splash of Fever Tree Mediterranean Tonic and a wedge of lime.

Domaine De Pellehaut Blanc is made up of a blend of 20% Sauvignon, 25% Colombard, 35% Ugni Blanc, 10% Chardonnay and 10 % Gros manseng et Petit manseng. The average vine age is 27 years old, this is a complex blend so it is best drunk two years after vintage to enjoy the full flavours.

From an historic, family owned, 300ha domaine in Gascogny, a wonderful fresh rose made from Merlot and Tannat. Fresh, summer red fruits.

An excellent Claret from the Maison Sichel stable of Bordeaux and is also hard to beat for value in Bordeaux. A blend 0f 63% Merlot, 32% Cabernet Sauvignon and 5% Cabernet Franc with 12 to 14 month spent in oak, 25% of which is new oak. This wine won the Gold medal at the Concours de Bordeaux competition in 2015.

A blend of aged Cognac and grape juice. Delicious as a sweet apertif or digestif and with blue cheeses.

The best PX we have ever tried! Sherry from a single Solera with an age of 30 years. Bottled unfined or filtered. Sweet and full but balanced with flavours of coffee, prune and chocolate.

Produced in the foothils of the Moncayo mountains, 100% Garnacha of brilliant value. A rich palate of blackberry fruit, with strawberry and vanilla character, style and deliciousness.

A rich amber colour. Fascinatingly complex with a light Christmas pudding nose of dried fruits, nuts, and a well flambeed crust. The rich concentrated flavours and tangy acidity are softened by a sweetness on the palate which brings it all together in a wonderfully balanced way.

Winemaker Eric Monin is an expert of the Rhone. This blend of Grenache and Syrah with oak aging is delicious! Rich, opulent fruit, black pepper and vanilla.

We have tasted Chateau Trillol for many years and now in 2014 it is delicious. Fresh and clean with spicy, peppery red fruits and deep, gamey, savoury notes. Enjoy with rustic foods.