South Africa
South African White Wines
South African White Wines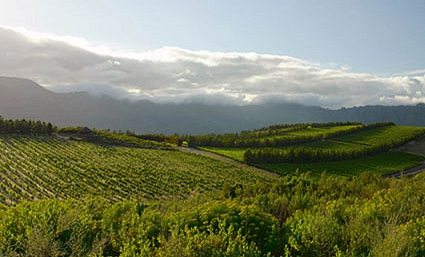 South Africa is producing excellent white wine with styles and varieties growing ever greater in number. Stellenbosch is at the heart with Waterkloof Estate on the Helderberg producing a range of excellent Sauvignon Blanc. The Chardonnay and Gewurztraminer of Delheim Estate rival Rustenberg with its Roussanne and Chardonnay for value for money. Further afield, Bouchard Finlaysom create a range of crisp white from Walker Bay, the "Blanc de Mer" matching up well to our delicious Dorset shellfish. Along the coast at Cape Agulhus Lands End produce superb Sauvignon Blanc reminiscent of fine Pouilly Fume. Chenin Blanc excels in the hands of Paul Boutinot with False Bay and the Goats do Roam blend from Charles Back must be tasted to be believed!
Displaying 1-10 of 18 results.
A really excellent wine! From a historic site of old vine Chenin Blanc, rich, tropical fruit is balanced by clean acidity.

This Sauvignon Blanc from the Western Cape displays fresh, ripe yellow fruit flavours with a hint of waxy lime and plum stone, as well as some leafy herbal notes which makes for a zippy, racy and deeply quaffable drop

A twinkling in the mind's eye, this cultured concoction of the Western Cape's brightest cultivars is alive with firm, fleshy fruit. On the nose, it has notes of jasmine and white stone fruit. It has a nuanced citrusy palate and tangy finish.

A low yielding site in Robertson produces the 100% Chardonnay needed for this excellent wine. A tiny amount of oak but this wine is really about the bright mineral fruit and acidity.

The fruit for this superb Chenin Blanc wine comes from the Paardeberg, from very old vines. Deep, rich and ripe fruit with a yeasty character and citrus acidity create this delicious False Bay wine.

False Bay Sauvignon Blanc represents superb quality and value. The fruit is sourced from Paadeberg, Durbanville and Stellenbosch. A cool, aromatic nose of citrus fruit and green apple with a gooseberry palate.

Vibrant and aromatic with delicious subtle perfumed aromas with white peach and hints of jasmine on the nose. On the palate it has tight, white, fleshy stone fruit and fresh apricot flavours that balances the sandy texture.

The Silver Myn Sauvignon Blanc is a deliciously drinkable wine with crisp, ripe, mineral flavours balanced by clean acidity.

this wine has a striking, pale lime colour. The nose has pronounced tropical aromas of guava, passion fruit and melon with an interesting floral, potpourri twist. On the palate you can enjoy white peach, kiwi fruit and pink lady apple, underpinned by a delightful flinty freshness and delicate citrus finish. Full and fresh.

The nose has an immediate attack of lemongrass and grapefruit with notes of hay and fennel. The palate has a rich textural mouthfeel of lanolin and waxy lemons. Pithy, affermatively tart with bright acidity this would be a joyous accompaniment to oily fish or green curries.