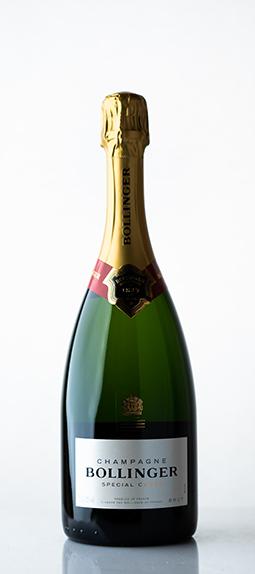 Bollinger Special Cuvee
Wine Description:
Bollinger needs no introduction. 60% Pinot Noir, 25% Cardonnay and 15% Pinot Meunier with 5-10% of reserve wines included in the blend and a high proportion of the wine coming from Premier and Grand Cru sites. Substantial and complex fruit with a biscuity egde and creamy acidity.
Tasting Note:
Golden colour, distinctive of black grape varieties; very fine bubbles. To the nose: a beautiful aromatic complexity; ripe fruit and spicy aromas; hints of roasted apples, apple compote and peaches. On the palate: a subtle combination of structure, length and vivacity; bubbles like velvet; pear, brioche and spicy aromas, notes of fresh walnut.

Food Suggestion:
Any fish, especially sushi and sashimi. Seafood: shrimp, prawn, crayfish, grilled lobster.Poultry and white meat. Parmesan, good cured ham.

Producer Description