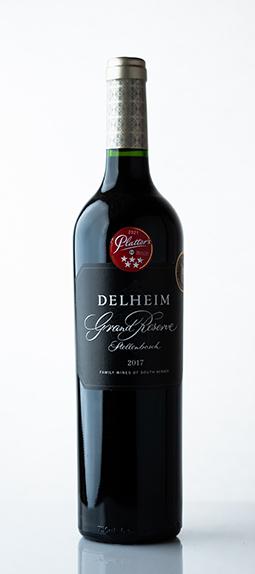 Delheim Grand Reserve
Region

Vintage:

2017

Producer:

Grapes:

Cabernet Sauvignon
Wine Description:
A 100% Cabernet Sauvignon aged for 16 months in oak, masses of elegant cassis fruit with plummy notes, fine oak and a rich smokiness. Refined and polished, drink as you would a Claret.
Producer Description
Delheim is an eco-friendly, family run estate consisting of two properties based in the area of Simonsberg in Stellenbosch. The estate is a mix of pine forest, heath-like shrub land and vineyards, which at 150 ha make up almost half of the land. The vineyards, which sit at elevations between 300 – 500 metres, are planted with Cabernet Sauvignon, Shiraz, Pinotage, Chardonnay, Chenin Blanc, Gewurztraminer and (Rhine) Riesling. The soil is predominantly sandy-loam and the yields are low at an average of 6 – 8 tonnes per ha.