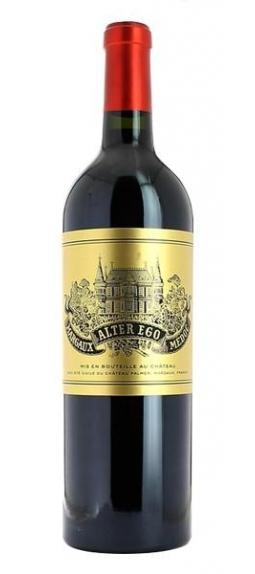 Alter Ego 2016
Region

Vintage:

2016

Producer:

Grapes:

Merlot
Wine Description:
Produced by the same team and from the same vineyards as Château Palmer, Alter Ego is literally the 'other side' of Palmer, another expression of Palmer. Alter Ego has the distinction and character of Palmer but is made to be drunk much earlier. Merlot is generally the dominant grape variety, making it supple and ready to open within 3 years of the harvest. A great wine with intense fruit, fresh and juicy.
Producer Description
Chateau Palmer was originally owned by Englishman Charles Palmer who bought the then named Chateau Gascq in 1814, and gave the Chateau his own name.

In 1938 the Sichel family, along with a group of wine merchant friends bought the Chateau with the Sichel family owning a third of the estate.
Chateau Palmer is a 3rd Cru Chateau in the Margaux region of Bordeaux, but considered to be of an equivalent quality and often outscoring some of the Premier Cru Chateaux. Located in the Cantenac area of Margaux across 66 hectares of vineyards, most of which are found on the plateau of Margaux but the very best being grown on plateau of Palmer, a much sought after plot of land located just behind the Chateau which, when the 1855 classification was drawn up, was not owned by Palmer and is possibly the only reason why Chateau Palmer were not ranked higher.
With a mix of gravel, sand and clay soils across the terroir, with 47% Cabernet Sauvignon, 47% Merlot and 6% Petit verdot, Palmer plant some of their Merlot on gravel. Typically Merlot is planted on clay, but the gravel plantings at Chateau Palmer are thought to be one of the reasons for Palmer's finesse.
Alter Ego De Palmer is actually not considered to be a 2nd wine by the Chateau as it is produced from seperate plots and is a different blend. Alter Ego is considered a seperate wine in it's own right and generally regarded to be of an equivalent level of quality to the 4th Cru Chateau and would be ranked so if there was ever to be a reclassification.