Palmers Bottled Real Ales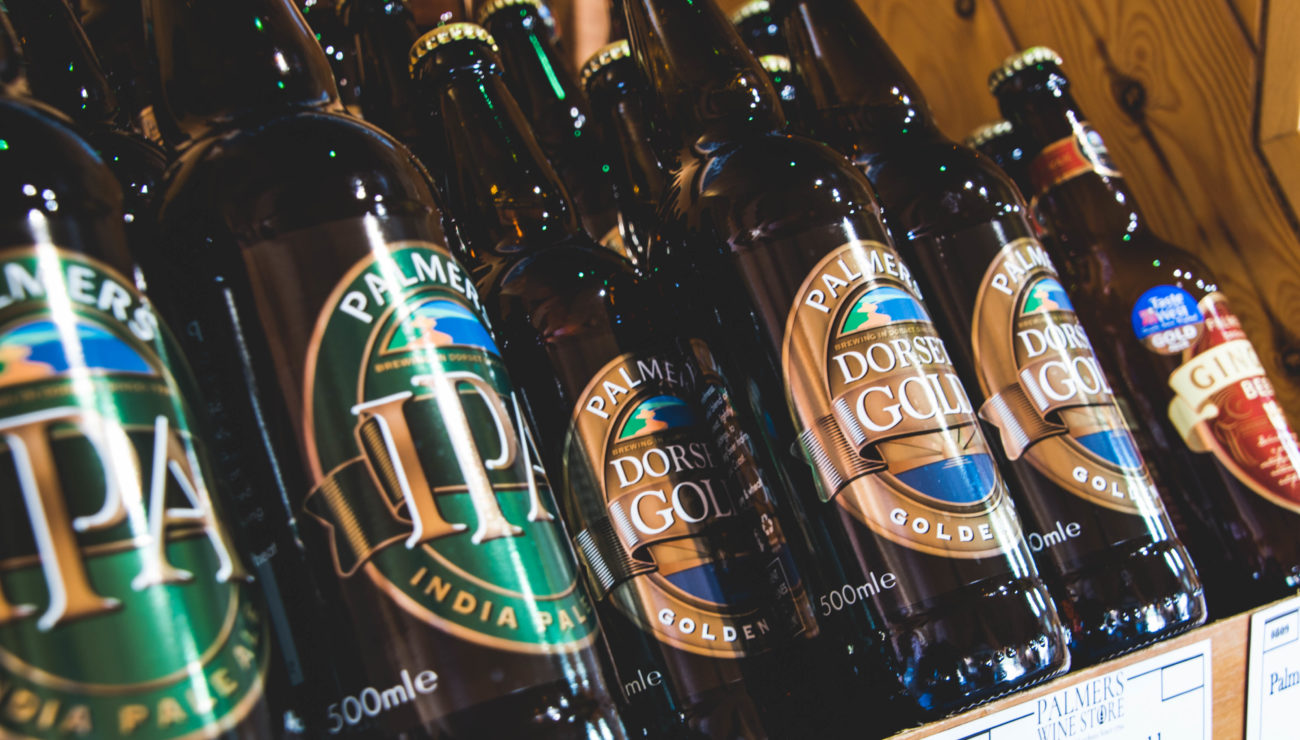 Hix Blonde Ale Offer

When you buy any three cases of our award winning Palmers Ales, we will add a dozen bottles of Hix Blonde free of charge.
Hix Blonde is a lightly hopped, refreshing, zesty and thirst-quenching golden ale brewed by Palmers Brewery for Hix Restaurants.
Please note your free case will not appear at the online checkout but we will ensure that your free case is included.
---
Five fine ales are brewed in the original Old Brewery at Bridport. They combine the finest ingredients with traditional methods that have built

Palmers' reputation since 1794. Four of the five are now bottled, so you can buy them direct.
Buying Palmers Bottled Ales through palmerswinestore.com will qualify you for free delivery on this and any other purchases in this transaction

(usually £8.95 for orders under £50).
Our ales are also available in 36 pint or 72 pint casks for weddings, parties etc.
---
Palmers Awards

Apple Bee Cider

Gold Award 2017- Taste of the West South West England

Palmers Original Ginger Beer

Gold Award 2018- Taste of the West South West England

Palmers Dorset Gold

, Gold Award 2017- Taste of the West South West England

Palmers Tally Ho!

Gold Award 2019- Taste of the West South West England 



Displaying 1-9 of 9 results.
First Press is a traditional still cider with a distinctive full flavour and refreshing bite, typical of artisan West Country ciders. 20 litre bag in box perfect for parties.

Refreshingly modern medium-sweet sparkling cider, crafted from Dorset apples.

A medium-dry, naturally cloudy cider made with traditional cider apples sourced from West Dorset orchards, blended with a proportion of dessert apples to create a hazy cider bursting with fresh, crisp apple flavours.

Thirst quenching lemonade with a touch of sweetness pure sugar, no artificial sweetners here. Refreshing with a zesty, citrus tang, an all year round taste of summer. Serve chilled, on its own or with whatever you please.

Palmers Ginger Beer is made the old-fashioned way with pure sugar and no artificial sweeteners, giving it a lovely, clean natural taste, taking you back to traditional caramels and lemon bon bons. It has a light fizz and a satisfying zing, making it the ideal non-alcoholic drink for all ages.

Dorset Gold (4.5% ABV)

12 x 500ml Bottles

Lightly hopped, golden premium ale. A refreshing, zesty and thirst-quenching beer, from the heart of Dorset's Jurassic Coast. Originally brewed as a summer ale and proved so popular it's now available all year round.

Palmers IPA (4.2% ABV)

12 x 500ml Bottles

This ale has been the taste of Palmers for generations. A full-drinking, malty ale with a delicious hop character. A traditional IPA from the heart of West Dorset.

Tally Ho! (5.5% ABV)



12 x 500ml Bottles




Strong, complex and full of deep distinctive flavours. A rich fruit cake flavour from roasted malt. First brewed in the 1940s, this prize-winning dark strong old ale has a loyal following among real ale connoisseurs.

Palmers 200 (5% ABV)



12 x 500ml Bottles




Full bodied, rich and malty, with a distinctive hop character. First brewed in 1994 to celebrate 200 years of brewing at Palmers. So popular that it is now our flagship premium ale.