Palmers Bottled Real Ales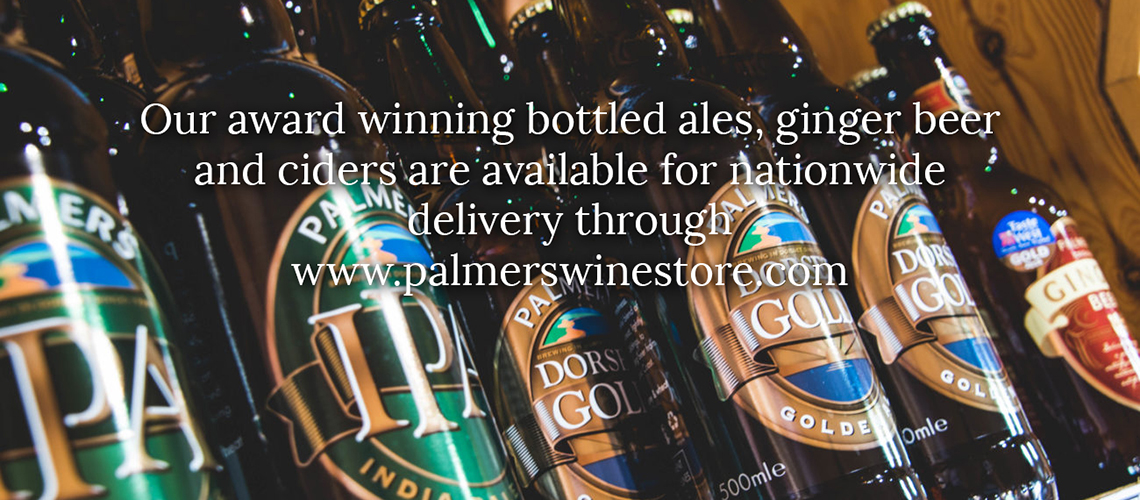 Buying Palmers Bottled Ales through palmerswinestore.com will qualify you for free delivery on this and any other purchases in the same order (usually £8.95 for orders under £50).

Our ales are also available for local delivery in 36 pint or 72 pint casks for weddings and parties.

For all trade enquiries please contact Cleeves Palmer on cleeves.palmer@palmersbrewery.com
Displaying 1-4 of 4 results.
Dorset Gold (4.5% ABV)

12 x 500ml Bottles

Lightly hopped, golden premium ale. A refreshing, zesty and thirst-quenching beer, from the heart of Dorset's Jurassic Coast. Originally brewed as a summer ale and proved so popular it's now available all year round.

Palmers IPA (4.2% ABV)

12 x 500ml Bottles

This ale has been the taste of Palmers for generations. A full-drinking, malty ale with a delicious hop character. A traditional IPA from the heart of West Dorset.

Tally Ho! (5.5% ABV)



12 x 500ml Bottles




Strong, complex and full of deep distinctive flavours. A rich fruit cake flavour from roasted malt. First brewed in the 1940s, this prize-winning dark strong old ale has a loyal following among real ale connoisseurs.

We are currently out of stock of Tally Ho! bottles and are waiting for new stock. In the meantime if you order Tally Ho! we will send HIX Oyster Ale as a replacement. This is hte same product but under a different label.

Palmers 200 (5% ABV)



12 x 500ml Bottles




Full bodied, rich and malty, with a distinctive hop character. First brewed in 1994 to celebrate 200 years of brewing at Palmers. So popular that it is now our flagship premium ale.