White Loire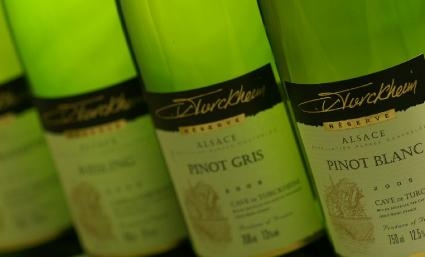 The white wine of the Loire is dominated by Muscdet, Chenin Blanc and Sauvignon Blanc. From the Nantais in the west crisp, fresh Muscadet Sur Lie is produced by Chateau du Coing de St Fairce and Chateau de Chasseloir. Chenin Blanc dazzles in Anjou with Chateau de la Roulerie producing fine Anjou Blanc and Savennieres from Domaine de Closel. In Touraine, exquisite peach and apricot flavours stem from Domaine Couly-Dutheil's Chinon Blanc and Touraine Sec from Charles Jouget. In the Upper Loire Sauvignon Blanc reaches the heights with Touraine Sauvignon from Domaine de Corbillieres and Chateau de la Presle. The Sauvignon Blanc from Sancerre brings keen gooseberry and gunflint flavours; Sancerre Andre Dezat, Henry Pelle and Phillippe Giraud among the finest. Domaine de Thibault produces excellent Pouilly Fume.
Displaying 1-10 of 11 results.
Lovely, green melon fruit, deliciously fresh and bright yet savoury and sapid too with a touch of salinity on the finish which is satisfying and flavoursome. Alcohol is 11% so refreshingly light.

Aromas of fresh mown grass, nettles and tart gooseberries are followed by a richly flavoured palate with a good concentration of fruit and dry typically Sauvignon finish. The wine has a great balance of ripeness and freshness with underlying minerality - just what Touraine Sauvignon should be.

Joseph Drouard and his son Christophe make classic Muscadet from 16 hectares of vines with an average age of 35 years situated on Silican clay around the commune of Monnieres. The wine is vinified at 21 degrees in underground glass lined vats and the wine rests on its lees throughout the winter. It is not fined and just receives a light filtration prior to bottling.

The Antique Pouilly-Fumé shows a beautifully perfumed nose of white flowers, white peach and orange. The palate is precise, with crisp fruit flavours that are underpinned by a racy acidity on the long, refreshing finish.

Less well known than near neighbours, Pouilly Fume and Sancerre, Quincy lies on the eastern end of the Loire. Domaine de Chevilly is made by Yves Lestourgie in 20 hectares of 20 year old vines. His wife, Antoine, is a qualified oenologist and her influence can be seen in the winery , where the wines are left on the lees in tank until just before bottling. This adds an extra dimension of concentration and richness.

This wine is pale lemon in colour with youthful hues, and is reminiscent of green apples and white flowers. The palate is crisp, clean and beautifully balanced, with a long refreshing finish.

The thoroughbred name of Saumer and a high class wine. A blend of Chenin Blanc, Chardonnay and Cabernet Franc with two years bottle age. A deep, creamy, white fruit nose with a citrus yeasty palate.

This is a wonderful, bone dry but forward Vouvray from a very top domaine that is certified organic and fully biodynamic. Soft, perfumed stone fruit and melon flavours with complexity and balance.

Pale yellow with a beautiful sheen. Nose: Intense with light aromas of passion fruit, peach and citrus. Palate: Harmonious and predominantly floral with a mixture of light peach and citrus aromas, wrapped in lovely minerality on the finish.

A stunning and unusual aperitif. 100% Chenin Blanc, bottled at low pressure. Delicious dried apple and apricot fruit with creamy yeasty notes.