Wiese & Krohn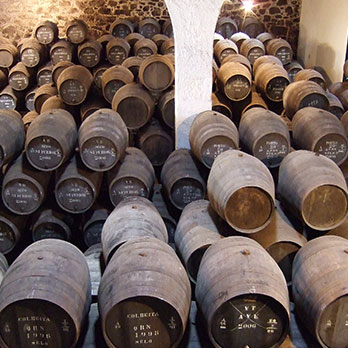 Wiese & Krohn was founded in 1865 by two Norwegians - Theodor Wiese and Dankert Krohn - shipping initially to Scandinavia and Germany. In the century and a half since its foundation, Krohn has built up an outstanding reputation. Long renowned for the quality of their sublime Colheitas (single vintage tawnies), they produce a remarkably complete range for a small house, and each wine excels in its category. Much of the secret lies in the high quality of their vineyards - the magical combination of terroir, locality, aspect, incline and low-yielding vines. Their Quinta do Retiro Novo estate in Sarzedinho, in the Rio Torto valley (where vinification takes place), is all A grade vineyard. Indeed Krohn only work with grapes from A-graded vineyards across all of their ports, and their top wines are still trodden by foot. Since 2013 Krohn has been part of the Fladgate Partnership - alongside Taylor's, Fonseca and Croft.
Displaying 1-7 of 7 results.
A single serving of this excellent mature ruby port produced by the Caneiro family. Excellent wine!

Superb value to be had from the Carneiro family. A blend of Touriga Nacional and Touriga Fransesca. Plummy fruit and soft tannins.

Cassis and fruit up front on the palate finished by notes of toasted nut. A very versatile port, well balanced.

From the excellent Krohn Stable, this is a very high quality Reserva Port with spicy, plummy, roasted fruits.The Port is aged for 2 years in 547 litre oak barrels (the traditional 'pipe') and large vats. Bottled unfiltered.

This is a delicious, fresh, sweet white Port with notes of caramel, honey and nuts from a top producer from the Rio Torto valley.

The Krohn house style is one of elegance and refinement, as ever this LBV is excellent value. Roasted red fruits and burnt sugar on nose and palate.

Retaining a deep and youthful colour, the nose has intense black fruit characters, with notes of sweet spices, liquorice and vanilla. The palate has structure and concentration, with rich, ripe plum and cherry flavours, more spice and firm tannins. It is drinking well now, but still has many years ahead.