Fernando de Castilla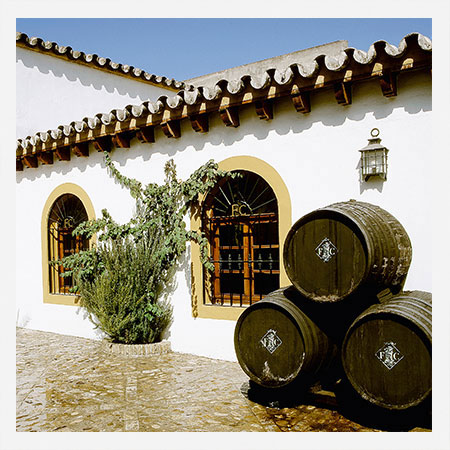 Bodegas Rey Fernando de Castilla is located in the historic centre of Jerez. Its story began with the aristocratic Andrada-Vanderwilde family, who for two centuries provided grapes and wine for the production of sherry in the area. In 1972 Fernando Andrada-Vanderwilde took over some old sherry cellars and brandy soleras from a couple of local bodegas, and changed the name of the company from Fernando III to Fernando de Castilla.
In 1999 Jan Pettersen, a Norwegian with 15 years experience at Osborne, bought the company and also acquired a neighbouring almacenista, José Bustamente. He also formed a partnership with a local grape grower – to ensure consistent supply of high quality grapes – unusual for the smaller bodegas, who usually have to rely on co-operatives. He decided to focus entirely on high-end, complex sherries - in the process upgrading the bodega to one of the most interesting and highly regarded of the small independent sherry houses in Jerez.
Whilst the company also produces Sherry Vinegar, and their own range of brandies, the Sherries produced here are amongst the finest in Jerez - from the pale, dry and elegant fino to the most unique antique wines.
There are two ranges: Classic, and the premium Antique range. It is the excellence of the Antique range of intensely pure and complex single solera Sherries that has largely driven Fernando de Castilla's reputation as masters in the production and ageing of fine, unblended, untreated Sherries (they do not fine, clarify or aggressively filter any of their wines).
Displaying 1-10 of 15 results.
Fernando de Castilla are the top Bodega and this is a delicious, mature Oloroso with rich, oaky, fruit, smokey flavours. Try with nuts or strong cheese.

Outstanding sherry! Delicate aromas of fruit and dried orange peel leading to a powerful, intense palate. 20 years old but still fresh and aromatic.

A rare breed aged Fino with only 1000 bottles made annually. Broad and full yet fresh with a deep, yeasty, nutty palate, fresh acidity and balanced alcohol.

A very rare breed! From one of the very finest Bodegas, an antique sherry with the nutty nuances of Amontillado and the rich fruity qualities of Oloroso.

The best PX we have ever tried! Sherry from a single Solera with an age of 30 years. Bottled unfined or filtered. Sweet and full but balanced with flavours of coffee, prune and chocolate.

An extraordinarily fine, complex and sophisticated drink. Beautiful shining amber colour, fascinatingly complex raisined, nutty, tangy nose and a flavour displaying layer upon layer of deliciously plump sensations on the way.

This is a really wonderful Fino Sherry from a single Solera of 4-5 years of age. Fresh, fruity and alive with yeasty, nutty, savoury character. A perfect aperitif.

Jan Petteerson continues to produce world class Sherry from his Bodega in Sanlucar. His Manzanilla is light, fresh and delicious with a citrus and salt tang.

The Classic Oloroso from Fernando de Castilla is rich and dry with notes of citrus fruit, spice and walnuts.

A rich amber colour. Fascinatingly complex with a light Christmas pudding nose of dried fruits, nuts, and a well flambeed crust. The rich concentrated flavours and tangy acidity are softened by a sweetness on the palate which brings it all together in a wonderfully balanced way.