Emiliana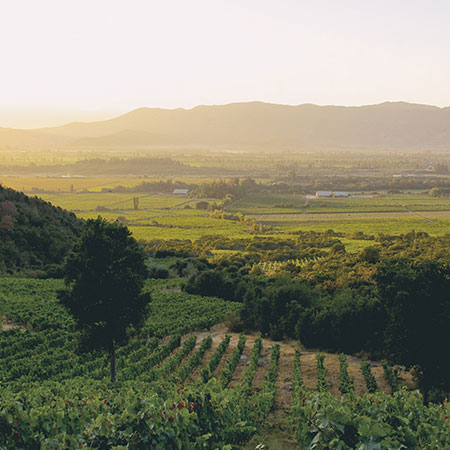 Voted by Wines of Chile as 'Winery of the Year 2016', Emiliana are one of Chile's most exciting producers and pioneers in organic and biodynamic winemaking. Since 1998, this Chilean winery has been producing award-winning wines from almost 1,000 hectares of vineyards in prime sites including Casablanca, Maipo, Cachapoal, Colchagua and Bio Bio.
Their spectacular biodynamic vineyard and winery at Los Robles is a model that attracts visiting viticulturalists and winemakers from across the world. Emiliana's innovative and natural-leaning wines are made with great care and attention and the results are inspiring.
Displaying 1-9 of 9 results.
Clean, clear, light greenish-yellow in colour, with a nose that presents the variety's very characteristic aromas such as delicate fruity notes of lime, grapefruit, pineapple, and peach. The fruit and herbal notes reappear on the crisp, vibrant palate. Moderate persistent, fresh, and pleasing on the finish, this is wine that is easy to drink for many occasions.

this wine has a great balance between fruit and smooth tannins. Deep ruby color, red-fruit aromas such as strawberries and raspberries, and touches of toast, vanilla and cocoa. This wine has great taste with touches of French oak.

A great Cabernet made from South Americas's largest organic winery. The aroma presents ripe fruit, balanced with the sweet and toasted notes of wood. The palate is soft with well structured tannins, leaving a persistent flavour.

The complex nose presents citrusy and grapefruit and lime notes with a subtle touch of white peppers.The smooth palate bursts with citrus freshness balanced by good volume and persistence.

Light ruby red in colour with aromas of fresh strawberries accompanied by subtle notes of spices and a touch of minerality.A organic medium bodied palate is elegant, delicate and fresh with juicy sour cherry flavours balanced with ripe tannins and a long finish.

A clear, bright pale yellow in colour, with refreshing citrus aromas of grapefruit and lime that intermingle with subtle tropical fruit aromas, especially pineapple, and a touch of herbs. On the palate, it is a balanced, fresh and fruity wine, with velvety texture and a persistent, enjoyable finish.

Novas Gran Reserva Riesling is a mid-weight, medium dry wine with persistent flavours of lime, fresh and clean finish and a gentle honeysuckle flora taste. Organic certified and suitable for vegans.

A delicious blend of Chardonnay, Roussanne, Viognier and Marsanne from the La Vinilla estate in the cool climate coastal region. Rich and tropical peach and apricot fruit on the nose with a complex palate of peach, blossom and grapefruit.

Emiliana's iconic blend. Violet red in colour. This is an elegant and complex wine with lifted notes of cherries, plums, blueberries, and blackberries, along with refreshing hints of black pepper, leather, and pencil lead. The palate is rich and packed with complex fruit character with fresh acidity. Good concentration and structure that draws out the persistent finish

Promotion:

Was - £22.50

Now - £19.12