Argiano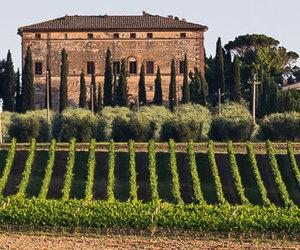 The history of Argiano took an about-turn while it was owned by Siena's noble Pecci family, with the construction between 1581 and 1596 of the splendid villa, an example of 16th century aristocratic residential architecture. Thanks also to the construction of the cellar, it was during those same years that Argiano developed its winemaking vocation.
Ownership of the estate changed hands over the centuries among various noble families, until the 19th century, when it came into the possession, and under the enlightened management, of Lady Ersilia Caetani Lovatelli, who succeeded in introducing and promoting Argiano's wines in the finest cultural circles of the time.
The great Italian poet Giosuè Carducci wrote a verse at the time saying "nella quale asprezza mi tersi col vin d'Argiano, il quale è molto buono…" (in the harshness of which I cleansed myself with Argiano wine, which really is good…).
In 1967, Argiano made the history, joining with other historical wineries from the area to form the Brunello Consortium. In 1992, the assets of Argiano passed into the hands of Countess Noemi Marone Cinzano, who introduced important innovations into the winery's management. She began working with the internationally acclaimed oenologist Giacomo Tachis, a partnership which led to the birth of the Supertuscan Solengo; the cultivation of the Sangiovese vineyards was expanded, and the cellars were renovated and modernised. This brings us to the present day, with the change in ownership at the beginning of 2013 that resulted in the transfer to a group of Brazilian businessmen.
Displaying 1-1 of 1 result.
From this top quality estate, 100% Sangiovese, hand picked, with ageing in French and Slovak oak. A vibrant, juicy palate of spicy cherry fruit with elegance and style.