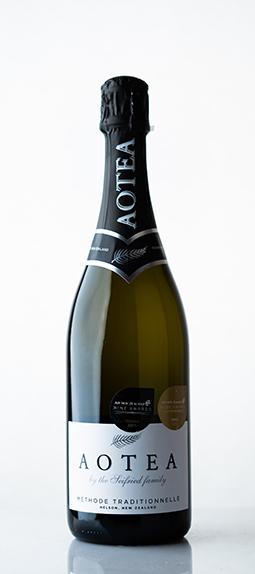 Aotea Methode Traditional
Region

Producer:

Grapes:

Pinot Noir, Chardonnay
Wine Description:
A terrific quality traditional method, new world sparkling from Seifried Estate in New Zealand. A blend of 50% Chardonnay and 50% Pinot Noir from cool climate Nelson, with 4 years lees age.
Tasting Note:
he nose has grapefruit, warm brioche and buttered toast notes and the palate is luxurious and generous with full biscuity shortbread notes and a crisp, lasting finish.
Press Reviews:
TROPHY: "Champion Sparkling Wine", Air New Zealand Wine Awards 2017, NZ
GOLD: Air New Zealand Wine Awards 2017, NZ
Producer Description
With 14 vinifera varieties, on two hectares of land, they began the South Island's modern commercial wine industry. Hermann and Agnes were true pioneers, experimenting with what classical European varieties may do well in this untested climate and terroir. Today it has grown from very modest beginnings to become one of New Zealand's most sustainable wineries, producing the very best Nelson has to offer. The site that Herman and Agnes chose for their new vineyards was perfect in terms of location. It is surrounded by mountains to the east, west and south (Richmond and Western Ranges) and the Tasman Sea to the north, which moderates the temperate climate throughout the year. The sunshine here was also a real drawcard, with an average of over 2,400 hours of sunshine a year, earning Nelson its reputation as the 'Sunshine Capital of New Zealand'. 1976 was the first harvest with five distinctive varietal wines being made - Riesling, Sylvaner, Chardonnay, Müller-Thurgau and Refosco.