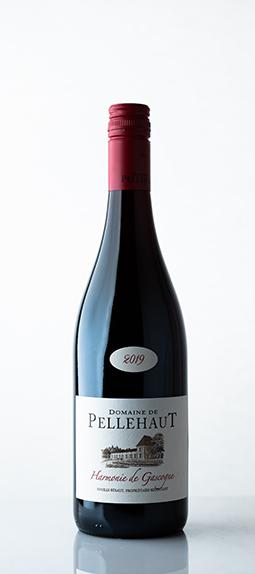 Pellehaut Harmonie de Gascogne Rouge
Region

Vintage:

2021

Producer:

Grapes:

Cabernet Sauvignon, Merlot, Tannat
Wine Description:
Domaine De Pellehaut Harmonie de Gascogne Rouge is from an historic 300 hectare family owned estate, a blend of 30% Merlot, 25% Cabernet Sauvignon, 20% Tannat.10% Syrah, 10% Malbec, 5% Pinot Noir from vines that average 27 years of age.
Tasting Note:
An attractive, deep purple hue at first glance, peppery, fruity aromas and unabashed freshness: harmony is indeed present on the palate, between careful ageing that has left the fruit intact and complementary spicy notes. Red fruit and coriander flavours blend beautifully together. A light red wine to be enjoyed with any part of a meal.

Download full product details
Press Reviews:
Concours Mondial des Féminalise 2018 - Gold
Concours National des Vins IGP 2018 - Gold
Reviews:
Browse more wines from Domaine de Pellehaut

Have you tired Les Marcottes? Click on link to find out more.
Producer Description
Palmers have had a long standing relationship with the Domaine De Pellehaut wines for many years and are one of the UK's largest independant shippers of their wines. Owned by the Beraut family for 300 years, Domaine De Pellehaut is managed by Brothers Mathieu and Martin Béraut. Starting out as Armagnac producers and continuing so under the name Chateau De Pellehaut producing several premium Armagnacs including the much prized and highly regarded Reserve De Gaston named after their Father. Domaine De Pellehaut produces several wines focused mainly on local grape varieties including Colombard, Petit Manseng, Gros Manseng and Tannat as well as high quality plantings of international varieties such as Merlot, Chardonnay and Sauvignon Blanc. This diversity of plantings along with the Beraut Brothers skill in wine making and the art of blending has resulted in a collection of multi-award winning wines that consistently over perform, from their Harmonie De Gascogne range through to their top cuvee the Family Reserve.