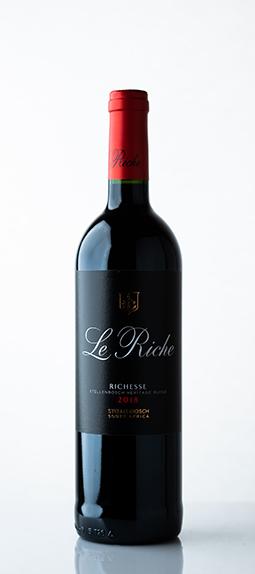 Le Riche Richesse Cabernet Sauvignon Merlot
Region

Vintage:

2019

Producer:

Grapes:

Cabernet Sauvignon, Merlot, Petit Verdot
Wine Description:
This is the only red wine produced by Le Riche that is not 100% Cabernet. A reincarnation of Le Riche's classic Cab Merlot blend, this is an exceptionally lovely, classically Bordelaise blend. Restrained but appealing on the nose with typical red fruit aromas of plum, cherries and milled pepper are balanced by an aroma of finely ground graphite found in Left Bank Bordeaux. The palate is a masterpiece of blending - hugely appealing with juicy mouth-filling flavours of red berries, plums and smoky hints balanced with a fine, soft tannic structure and rounded finish
Producer Description
Le Riche is a family run estate founded by Etienne Le Riche in 1996. Situated close to the historic town of Stellenbosch, the winery is perched on the slopes of the Heldeberg Mountain and surrounded by the majestic Hottentots Holland Mountain range.
If youre based in Stellenbosch and going to specialise in something, Cabernet is a great choice! Le Riche are known as 'Cabernet Masters' and rightly so. They select grapes from the best possible Stellenbosch terroirs to craft top quality Cabernets with superb cellaring potential. The estate was founded by Etienne Le Riche in 1996 and remains a family affair.
These wines are elegant and classy with fine grained tannins and subtle oak integration, and while not aiming to be Bordeaux replicas, they do have much in common with the balance and poise sometimes found in top Margaux. With most of their wines sold domestically, it's a rare treat to find these wines on UK soils. Production is 8000×6 cases a year, with the Reserve range consisting of only 1000 cases. These wines are rare but worth sourcing.