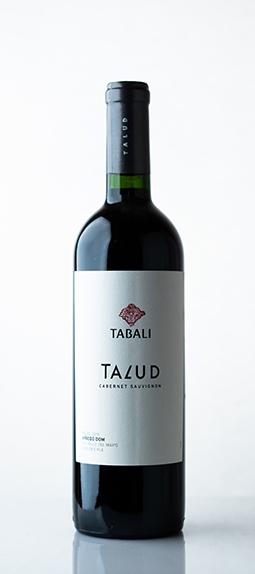 Tabali Talud Cabernet Sauvignon
Region

Vintage:

2015

Producer:
Wine Description:
This wine has a very elegant and fresh nose with lots of black 'Fruit Pastel' notes that gives it loads ofcharacter. The French oak makes a subtle contribution, lending the wine great complexity. In themouth it is very concentrated with excellent, smooth, silky and firm tannins. This is a well-balanced, fresh wine, packed with fruit in which the notes of blackcurrants, black cherries and spices are especially notable. It has a long and very persistent finish.
Food Suggestion:
Lean red meats, slow cooked beef or beef ragu.
Press Reviews:
2015 Vintage


Sommelier Wine Awards 2019 Gold
Producer Description
Established in 2002, Tabalí is a pioneer and iconic winery situated in Limarí, on the edge of the Atacama Desert in one of the northernmost vineyard regions of Chile. They were one of the first wineries to settle in Limarí and their wines faithfully reflect their place of origin in which climate and soils play a fundamental role, and bring out the potential of each of their vineyards.
After years of geological research, Tabalí is the only winery that producers wines that cross Chile from east to west in the same valley (D.O.), from their incredibly high and remote site of Roca Madre (second highest vineyard in Chile) in the Andes Mountains' Rio Hurtado area down to their cool climate, 'Camanchaca' fog blanked vineyards by the Pacific Ocean. In their quest for the perfection, they now also have a site in the renowned Cabernet and Merlot region of Maipo Valley. The result is a range of truly distinctive wines with elegance, restraint and minerality which the dynamic team of Felipe Muller (winemaker) and Hector Rojas (viticulturalist) have attributed to their cabinet full of the wine world's most prestigious trophies. In 2014, Felipe Müller was name 'Chilean Young Winemaker of the Year' and acclaimed for his ability to understand Tabali´s distinctive terroir and use it to create remarkable wines, unique to Chile.
Tabalí also has the honour of stewardship of the Limarí Valley's most significant archaeological sites, the mystical 'Valle del Encanto' (Enchanted Valley) which borders their vineyards. A sacred site of the ancient Molle and Diaguita culture, the many rock drawings and carved Tacita stones depict an ancient way of life. The Tabalí mask logo has been taken from one of these rock carvings, which can only be seen at certain times of day when the sun's alignment makes them magically appear.