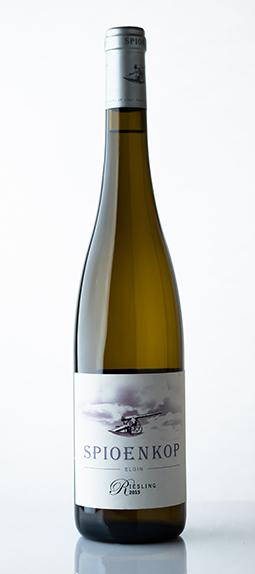 Spioenkop Riesling
Promotion:
Was - £24.00
Now - £20.40
Region

Vintage:

2015

Producer:

Grapes:

Riesling
Wine Description:
A stunning Riesling from Elgin, with aromatic complexity, purity of fruit, and minerality in spades.
Tasting Note:
A celebratory nose of green limes with a whiff of salinity. A rapier sharp palate of limes and terrific bony skeletal texture. It's like sucking any other Elgin Riesling through marble. A bony, brittle delight with endless citrussy length.

Download full product details
Food Suggestion:
Shellfish, langoustines, grilled fish, salads, fish terrines, salads with olives, duck and pork meat.

Vegetarian, Vegan
Press Reviews:
2015 Vintage

Sommelier Wine Awards 2018 Silver
Decanter World Wine Awards 2016

Decanter World Wine Awards 2016 Silver
Decanter World Wine Awards 2016

Producer Description
The Elgin Valley is one of South Africa's buzz wine-growing regions. Traditionally a hot spot for apple farmers, it's fast becoming the destination for premium Cape wines, thanks in no small part to its unique terroir where altitude and Atlantic influence offer vines a cooler, longer growing season. Spioenkop was bought by Koen and Hannelore Roose, a crazy Belgian couple following their dream of living closer to nature and making great wines which express their terroir. All vines are hand-harvested as the steep rocky slopes are treacherous for tractor, and the farm boasts seven different soil structures and each varietal is planted on the appropriate type to make the vines work hard and dig deep. Koen and Lore are hell-bent on creating elegant wines that are sexy and pure but at the same time unique and even a little wild. These are amazing wines totally driven by expression and quality.