Our apologies, this item is no longer available.
Please contact the team in the wine store on info@palmerswinestore.com or call 01308 427500 to discuss whether we are able to help source it for you.
Check out similar products here.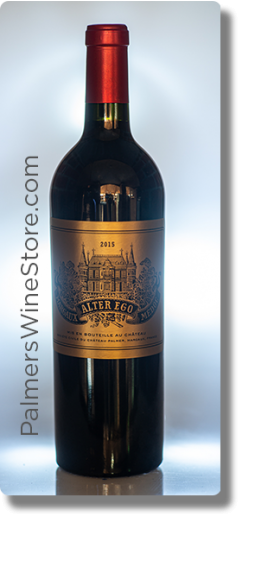 Alter Ego De Palmer
Region

Vintage:

2016

Producer:

Grapes:

Cabernet Sauvignon, Merlot
Wine Description:
Chateau Palmer is considered to be one of the most prestigious Chateaux in Bordeaux, producing wines of a Premier Grand Cru level. The 2015 Palmer was one of the highest scoring wines of the vintage, with only Chateaux Mouton-Rothchild, Margaux and Latour outscoring Palmer.Alter Ego is Chateau Palmers 2nd wine and the general rules is to buy 2nd wines on the great vintages. 2nd wines can offer great value and with the Margaux region being the star of the 2015 vintage, Alter Ego De Palmer is a very good buy. The 2015 vintage was Alter Ego De Palmer's highest ever scoring vintage and will cellar for for the next 10 to 15 years.
Tasting Note:
The bouquet has certainly dispensed with the precocity that it demonstrated in barrel, now more refined with pure blackberry, blueberry and violet scents, precise and very focused, the new oak very well integrated. The palate is medium-bodied with supple tannin, a crisp line of acidity, lightly spiced (clove and black pepper) with just the right amount of plushness toward the winsome finish.
Serving Suggestion:
Decant for up to an hour prior to drinking.
Anticipated maturity: 2021 - 2036.
Press Reviews:
The Wine Advocate - Composed of 52% Merlot, 42% Cabernet Franc and 6% Petit Verdot, the 2015 Alter Ego de Palmer has a medium to deep garnet-purple color and gorgeous nose of ripe plums, cassis and crushed cherries with touches of incense, lavender and chocolate box. Medium-bodied, very finely crafted and vivacious in the mouth, it finishes with great elegance and finesse.
Lisa Perrotti-Brown - 21/02/2018Jancis - Very rich on the nose. Very sweet and with sufficient freshness. Very very round. Just on the right side of soupy - but you really have to drink this pretty young, I think.
Producer Description
Chateau Palmer was originally owned by Englishman Charles Palmer who bought the then named Chateau Gascq in 1814, and gave the Chateau his own name.

In 1938 the Sichel family, along with a group of wine merchant friends bought the Chateau with the Sichel family owning a third of the estate.
Chateau Palmer is a 3rd Cru Chateau in the Margaux region of Bordeaux, but considered to be of an equivalent quality and often outscoring some of the Premier Cru Chateaux. Located in the Cantenac area of Margaux across 66 hectares of vineyards, most of which are found on the plateau of Margaux but the very best being grown on plateau of Palmer, a much sought after plot of land located just behind the Chateau which, when the 1855 classification was drawn up, was not owned by Palmer and is possibly the only reason why Chateau Palmer were not ranked higher.
With a mix of gravel, sand and clay soils across the terroir, with 47% Cabernet Sauvignon, 47% Merlot and 6% Petit verdot, Palmer plant some of their Merlot on gravel. Typically Merlot is planted on clay, but the gravel plantings at Chateau Palmer are thought to be one of the reasons for Palmer's finesse.
Alter Ego De Palmer is actually not considered to be a 2nd wine by the Chateau as it is produced from seperate plots and is a different blend. Alter Ego is considered a seperate wine in it's own right and generally regarded to be of an equivalent level of quality to the 4th Cru Chateau and would be ranked so if there was ever to be a reclassification.