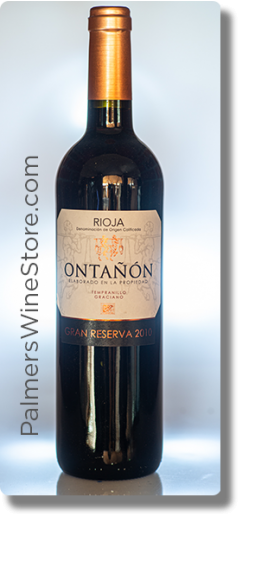 Ontanon Rioja Gran Reserva
Region

Vintage:

2010

Producer:

Grapes:

Graciano, Tempranilla
Wine Description:
A fantastic Rioja Gran Reserva from Bodegas Ontanon with 95% Tempranillo and 5% Graciano aged for 3 years in oak and a further 2 years in bottle this wine drinks now but will benefit from cellaring for several more years.
Tasting Note:
Beautifully developed Rioja with aromas of dark fruit, red cherry, spice, tobacco and mocha. The palate shows complexity and structure with layers of black fruit, spice and toasty oak to give a long and elegant finish.

Download full product details
Food Suggestion:
Serve with roast meat dishes, or simply with fine ham and cheeses.
Press Reviews:
2005 Vintage Sommelier Wine Awards 2018


Producer Description
Raquel, Rubén and María Pérez Cuevas are part of the fifth generation of the Pérez Cuevas family to carry on the tradition of grape growing in the southern part of Rioja. Their father, Gabriel, inherited a portion of his familyís vineyards, located in the high mountain slopes of the Sierra de Yerga mountains just south of the River Ebro in Rioja baja. When he took over in the early 1980s, Gabriel began making wine from these vineyards rather than selling the fruit as his ancestors had. He was determined to produce wines that embodied the region of Quel, where his family had deep roots and where he believed the highest quality wines from Rioja were produced. He began to sell his wines, then labeled as "Arteso", in the local area and later throughout Spain.
As sales continued to increase, Gabriel purchased more vineyard land in his native region. During his father's and grandfather's time, Quel was the center of quality wine from Rioja. All of the original "wineries" were dug out of the rock faces that encircled the town and consisted of hollowed-out clay fermentation vats with chimney-like chutes dug straight through to the top of the cliffs. The grapes were delivered in old comportillo (grape baskets), carried down the mountain slopes from the vineyards via mules. This tradition primarily evolved as a practical measure so that neither the winemakers nor their pack animals had to carry the year's harvest up the back-breakingly steep cliffs, but it also mirrored early gravity-flow systems. Of course, in that age there were no barrels and no extensive winemaking regulations as there are now in the D. O. Ca. of Rioja, but the fruit from this part of Rioja was known to be among the best and