Chiliean White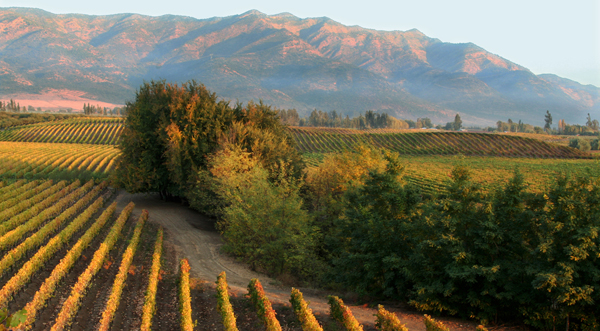 The foundations of our Chilean white wine range is also based on the excellent value wines of Concha Y Toro that are to be found in the Central Valley. They produce text book Chardonnay and Sauvignon Blanc. Alongside the same varieties under the "Andes Peaks" label from Emiliana in the Rapel Valley, they are a great source of drinking wines. Casa Silva use superb fruit in their Semillon/Sauvignon Blanc blend and peachy Viognier from the Colchagua Valley. The Centauri Sauvignon Blanc from the Maule Valley is produced by the amazing Jose Manuel Ortega. Vina Tabali in the Limari Valley produce crisp and delicious Chardon and Viognier and the outstanding Casa Marin create top class Riesling and Sauvignon Gris.
Displaying 1-10 of 15 results.
From world renowned producer Casa Silva - this wine highlights the value on offer when you look outside of the classic Sauvignon Blanc regions. An exuberant, youthful wine with notes of lemon, mango & melon, all wrapped up with juicy, fresh acidity.

Clean, clear, light greenish-yellow in colour, with a nose that presents the variety's very characteristic aromas such as delicate fruity notes of lime, grapefruit, pineapple, and peach. The fruit and herbal notes reappear on the crisp, vibrant palate. Moderate persistent, fresh, and pleasing on the finish, this is wine that is easy to drink for many occasions.

This Sauvignon Blanc sourced from the Central Valley is outstanding value. Full of crisp, ripe, tropical fruit on the nose and palate with surprising depth.

This is a great value Chardonnay full of delicious, light, peachy, fruit and balanced acidity.

The multi award-winning Casa Silva are regarded as one of the best producers in Chile. This blend of Chardonnay and Semillon is delicious, with crisp, green apple fruit and a light and creamy finish.

A clear, bright pale yellow in colour, with refreshing citrus aromas of grapefruit and lime that intermingle with subtle tropical fruit aromas, especially pineapple, and a touch of herbs. On the palate, it is a balanced, fresh and fruity wine, with velvety texture and a persistent, enjoyable finish.

The complex nose presents citrusy and grapefruit and lime notes with a subtle touch of white peppers.The smooth palate bursts with citrus freshness balanced by good volume and persistence.

This Viognier presents rich aromas of citrus, orange peel and dried apricot, fresh pears and white peaches, plus hints of candied fruit. Delivers on the palate as well as the nose, with floral, honeyed and citrus flavours combining with chalky minerality so typical of Limari.

Novas Gran Reserva Riesling is a mid-weight, medium dry wine with persistent flavours of lime, fresh and clean finish and a gentle honeysuckle flora taste. Organic certified and suitable for vegans.

Casa Silva is one fo teh outstanding producers of Colchagua Valley.á This late harvest wine is a sumptious blend of spicy Gewurtz and rounded Semillon.