Bodega Don Cristobal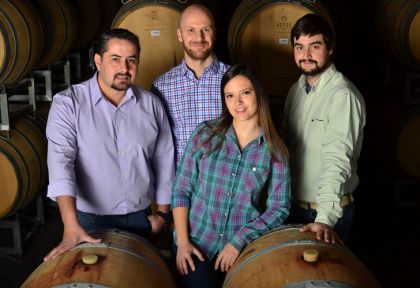 Don Cristobal is a family owned winery that started its activities in 1998 with the solid commitment to produce quality wines with personality. The shareholders of the company are the Belgian-Argentinian family Lapania-Vandenbalck. The company is led by Eduardo Lapania, its founder, and Cristóbal Lapania (his son) who assumes the position of CEO.
Don Cristobal began the production of wines with the 2001 harvest and entered that same year in the world wine market with its brand Cristóbal 1492 "wines of the new world for the entire world". Don Cristóbal owns a total of 200 hectares of land with 143 hectares of planted vineyards, a very good production base, great diversity of areas and grapes and is constantly evolving. The company improves day by day in the winemaking process and is adopting sustainable practices in the vineyards and in the winery.
Displaying 1-6 of 6 results.
This is a fresh, juicy Malbec from Mendoza, Argentina. Full of fresh, cherry plum, violet and blueberry character.

A clean and ripe Chardonnay with tropical fruit and nuances of butter and nuts with acidity. A very good bottle.

Deep ruby red in color with violet tones and aromatically faithful to the varietal, with notes of raspberries and peppers. Smooth with round tannins, medium-bodied, very pleasant on the palate with a long and persistent finish.

Bright garnet colour, with deep hues. Its aromas are fruity, with a touch of cherries and fresh plums, characteristic of this grape native of Tuscany – Italy. On the palate, a nuance of acidity makes it vibrating and fresh. Harmonious, elegant and complex.

A delicious, plummy, creamy nose of red fruits leading to a vibrant red fruit palate. Very tasty.

An elegant Malbec, of outstanding red purple tones. Intense scents and blueberries and dry plums taste, combined with notable vanilla and tobacconotes. Excellent in mouth, reminds us to chocolate combined with a soft smoke that makes it irresistible. Sweet, complex, outstanding exponent of the great Argentinean Malbec.