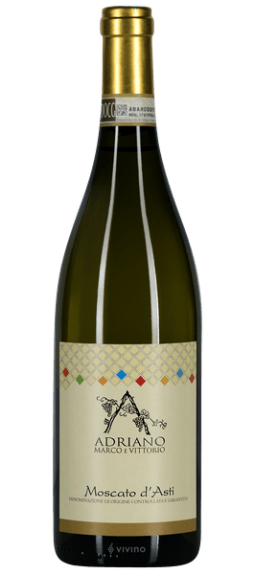 Adriano Marco eVittorio Moscato d'Asti
Region

Producer:

Grapes:

Muscat / Muscatel / Moscato
Wine Description:
Light, fresh and gently sparkling. Aromas of citrus, apricot and peach.
Producer Description
In the heart of the Langhe, in the San Rocco Seno d'Elvio area, the Adriano Marco and Vittorio farm produces wines that mirror the land. The company has been family owned for generations and makes wine using only the grapes grown on their property.
The family wine making tradition dates back to the early 1900s, when the grandfather, Giuseppe, a sharecropper, began cultivating vines. The tradition continued with his son Aldo. They acquired a small company, and together they began planting new vines.
In turn, his grandchildren, Marco and Vittorio, cultivated a love for their land and its fruits, expanding the company, making and bottling wine from their own grapes. This year, Michela, Vittorio's daughter, joined the family business, flanking her mother Grazia as export manager.And in the "nursery", there is new hope: Elisa and Andrea, Marco and Luciana's children, and Sofia, Victor and Grazia's youngest daughter. The "Adriano's" future is guaranteed!
Currently the company has 27 hectares of land planted with Nebbiolo, Barbaresco, Barbera d'Alba, Dolcetto d'Alba, Freisa, Sauvignon and Moscato.