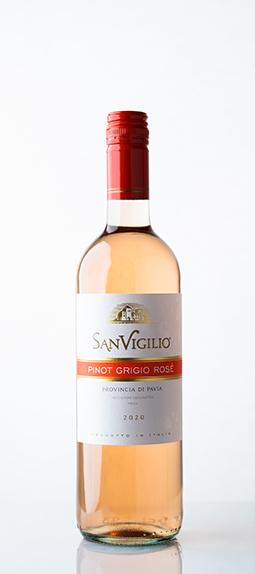 Sanvigilio Pinot Grigio Rosato
Wine Description:
From the cool climate region of Trentino, this Pinot Grigio Blush shows bright, crisp acidity with light, fresh red berry fruit.
Tasting Note:
A fresh, easy drinking wine with strawberry aromas. Crisp and delicate on the palate with apple and citrus fruit and hints of redcurrant. A slight creaminess lends to mouthfeel and is followed by refreshing acidity.

Download full product details
Food Suggestion:
Serve chilled as an aperitif or to accompany salads, cold meats such as salami or smoked chicken or seafood dishes.
Producer Description
Cavit is a leading co-operative in the mountainous Trentino region of northeast Italy. The winery began as a consortium of associated grape growers in 1950, with a dedicated winery at Ravina di Trento built in 1964. Today It unites 11 separate cellars and their combined 4,500 grape growers across 7,000 hectares of vineyard, to produce an impressively broad portfolio from an intriguing palette of indigenous and international grape varieties.
Trentino has a much higher proportion of wines produced as DOC than any other region in Italy - an average of 80% of the region's wines have a DOC classification, compared to around 30% elsewhere in the country. Remarkably, Cavit accounts for 60% of this region's wine production and they advise and supervise all aspects of this production from the vineyard to the bottle. Their site at Maso Toresella on the shores of Lake Toblino was the historic residence of the Prince Bishops of Trento, surrounded by 6.5 hectares of vineyard. It is one of the most significant 'masi' (rural estates) in the whole of Trentino. They have worked with the San Michele all'Adige Oenological Institute, since 1988, to develop wines of the highest quality. In 1993 Cantina Altemasi was established, also at Ravina, not far from the region's capital of Trento - for the production and maturation of Classic Trentodoc and Charmat Method sparkling wines. Trento Doc was the first Classical Method sparkling wine DOC to be established anywhere in the world after Champagne, and the first in Italy.