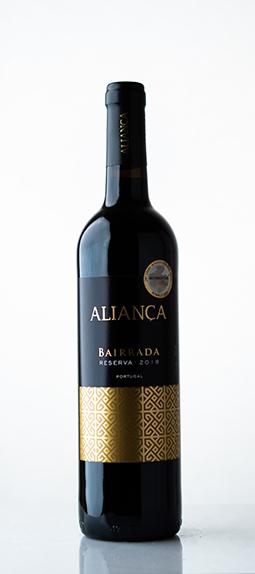 Bairrada Reserva
Region

Vintage:

2020

Producer:

Grapes:

Baga
Wine Description:
Produced in Bairrada in central Portugal, local varieties blended to perfection. Hot and spicy fruit.
Producer Description
Aliança was founded in 1927, over 80 years ago, by 11 associates led by Domingos Silva and Ângelo Neves, in Sangalhos (Anadia's county), Bairrada region.
The company started its activity by exporting to Brasil, África and Europe, representing, nowadays more than 50% of Aliança's clientele.

Aliança is proud of their quality wines, sparkling wines and brandy not only available in Portugal but in the 60 countries they export to.

In 2007, Commander José Berardo acquired Aliança's major capital, and made it part of Grupo Bacalhôa.

The social designation of Caves Aliança S.A. was modified to Aliança Vinhos de Portugal S.A. In March 2008, the institutional image was changed and the brand Aliança Vinhos de Portugal started to be distributed by Viborel Distribuição S.A. in the national market.

Recently Aliança made large investments in wine tourism by remodeling the facilities in Sangalhos. Aliança has an excellent tour circuit that shows the passion and patience that goes into making sparkling wine. Guests can visit the different stages of fermentation in the tunnels, breathe in the smell of oak near the impressive amount of barrels, and end the tour with a stop by the traditional brandy cellars.

Aliança wines includes Quinta dos Quatro Ventos, Quinta da Garrida, Quinta da Terrugem and Quinta das Baceladas. Aliança has won several awards, nationally and internationally, and in 2005 Wine Spectator listed them as one of the 20 best wine companies in the sector worldwide, being the only winery in Iberian Peninsula to be included.