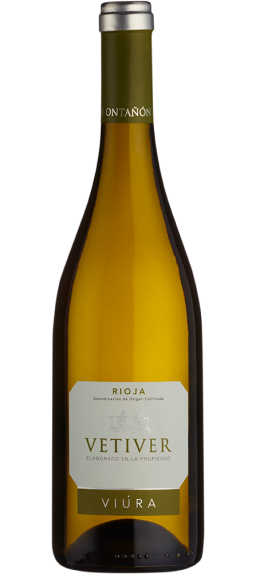 Vetiver Viura Ontanon
Region

Vintage:

2020

Producer:

Grapes:

Viura
Wine Description:
Produced solely from Viura and given 4 months in American oak to mellow you get just the right balance between ripe tropical fruit and toasty brioche.
Tasting Note:
Opulent aromas of pear and jasmine, with tropical notes and well-integrated oak. The palate is poised with pineapple, vanilla and crisp lemon acidity - and brioche notes on the finish.

Download full product details
Food Suggestion:
Lobster or langoustines with cream-based pasta sauce, or roast chicken dishes.

Vegetarian, Vegan
Press Reviews:
2014 Vintage Sommelier Wine Awards 2018

Bronze
Sommelier Wine Awards 2017

Producer Description
Bodegas Ontañón is a 5th generation family-owned and run winery in Rioja Baja (now Rioja 'Oriental'). Here Raquel, Rubén and Maria Pérez Cuevas continue their father Gabriel's work to develop Bodegas Ontañón into one of the most highly-regarded wineries in Rioja.

Ontañon have vast swathes of vineyard in this part of Rioja. Whilst wine production in the region is typically very dependent on contracts with grape growers, the Pérez Cuevas family have seen fit to invest heavily in the purchase of their own land and vines. Their 250ha is a testament to the importance they place on controlling grape quality. Their vineyards sit high in the Sierra Yerga mountains in the prestigious region surrounding Quel - and defy misconceptions that Rioja Baja is one of the lesser sub-regions within Rioja. Much of their vineyards are actually planted at altitudes on a par with, or above, those in Rioja Alta and Alavesa; (La Pasada is their highest vineyard at 800m above sea level – planted in 1979 it is used for Reserva and Gran Reserva wines). The hot and dry Mediterranean climate allows for consistent ripening of the grapes with little disease – this has enabled them to pursue organic production across 57 hectares.