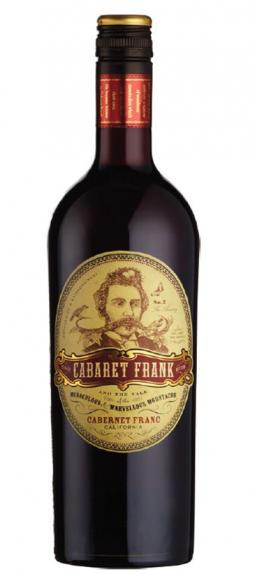 Strange But True Cabaret Frank
Region

Vintage:

2018

Producer:

Grapes:

Cabernet Franc
Wine Description:
A delicious and delicate Cabernet Franc from California. Full of spicy, crunchy cherry and raspberry fruit with a rustic character.
Tasting Note:
A smooth, medium bodied and easy drinking wine that strikes a lovely balance with its blackberry, plum and dark cherry fruit characters coupled with classic varietal leafy tones. Made predominantly from Old Vine Cabernet Franc (85%), the balance being a harmonious blob of sibling Cabernet Sauvignon. The story and overall package may be light-hearted, but the wine inside is as ever, seriously good with oodles of drinkability!

Download full product details
Food Suggestion:
This is a food wine that really lends itself to vegetarian dishes. Try it with grilled eggplant or zucchini, or with meals containing green peppers (capsicums), cabbage, or herbs (particularly sage, thyme, rosemary or saffron). A versatile wine that is also fantastic with tomato based dishes; lighter meats such as turkey or chicken, along with game meats like duck; amd richer beef based dishes like steak or veal.

Vegetarian, Vegan
Press Reviews:
2016 Vintage
IWSC 2018

Silver
2015 Vintage
IWSC 2017

Silver
2014 Vintage
Decanter World Wine Awards 2016

Bronze
IWSC 2016

Silver
Producer Description
Boutinot started life in Greater Manchester in 1972 when Paul Boutinot begin to collect wines from France and bring back to Manchester to sell at his parents restaurant. Paul's reputation quickly begin to grow and it wasn't long before other restaurants were asking for him to sell them wine and the company was started in 1980 as a wine supplier.

Boutinot have furthered their reputation for great value wines by starting to produce wines themselves. They have partnered with Italian producer Adria Vini, have their own vineyard holdings and winery in France and vineyards in South Africa, and now a large percentage of Boutinot's portfolio is their own production.