Our apologies, this item is no longer available.
Please contact the team in the wine store on info@palmerswinestore.com or call 01308 427500 to discuss whether we are able to help source it for you.
Please find a variety of our products here.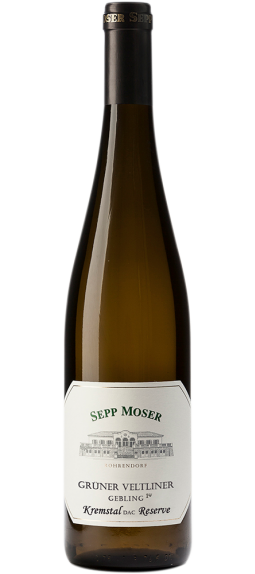 Sepp Moser Gruner Veltliner Gebling Biodynamic
Region

Vintage:

2018

Producer:

Grapes:

Gruner Veltliner
Wine Description:
Floral and spicy aromas with dried apricot and honeyed peach characters. The palate is ripe and textural with more white spice, stone fruit and beautifully balanced citrus acidity.
Tasting Note:
Floral and spicy aromas with dried apricot and honeyed peach characters. The palate is ripe and textural with more white spice, stone fruit and beautifully balanced citrus acidity.

Download full product details
Food Suggestion:
Roast chicken salad and shellfish. Can also pair with spring veg such as asparagus.

Vegetarian, Vegan, Organic, Biodynamic
Producer Description
The Sepp Moser Estate was founded by the famous Austrian wine producing pioneer, Lenz Moser. Lenz Moser's son, Sepp Moser, began operating under his own name in 1987 and handed over the direction of this family-owned estate to his own son Nikolaus in the year 2000. The Sepp Moser Estate comprises of 50 acres of vineyards in two prominent wine regions; Kremstal (22 ha) and Neusiedlersee (28 ha). In the Kremstal, Nikolaus produces an international range of varieties as well as the ever more important local varieties of Gruner Veltliner and Riesling. The reds are produced on the gravelly soils of the warm southern Neusiederslee village of Apetlon. All Sepp Moser wines have been organic (and all estate wines biodynamic) since 2007