Our apologies, this item is no longer available.
Please contact the team in the wine store on info@palmerswinestore.com or call 01308 427500 to discuss whether we are able to help source it for you.
Please find a variety of our products here.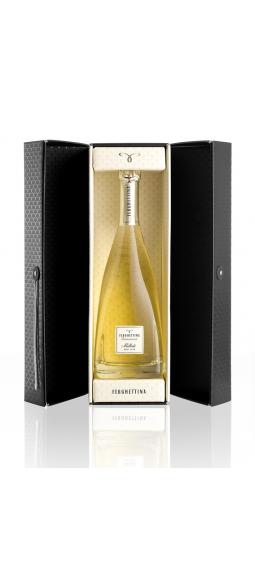 Ferghettina Milledi Franciacorta Brut
Region

Vintage:

2014

Producer:

Grapes:

Chardonnay
Wine Description:
An outstanding Sparkling wine from the Franciacorta region. Made from 100% Chardonnay and presented in the most fantastic 'square' bottle. Straw yellow in colour, the palate is rich and crisp with elegant citrus fruit, a steely minerality and moreish acidity. Fine and persistent bubbles leave a pleasant and memorable impression. A must try for Sparkling wine fans.
Producer Description
Italian sparkling wine is not all about Prosecco, as leading Franciacorta producer Ferghettina has proved time and time again.
Ferghettina is a family winery – established in 1991 by Roberto Gatti, and run with his wife Andreina, and their children Laura and Matteo. Starting with just 3-4ha of vineyard and a small production of Franciacorta Brut, Ferghettina has now grown to become one of the finest Franciacorta wineries.
Situated in the southern half of Lombardy – on the edge of the town of Adro, just south of Lake Iseo – the majority of plantings are Chardonnay (approx. 70%) along with Pinot Noir (and just 4ha Pinot Blanc for their still wines). They now have 200ha of vineyard across 11 different villages, mostly at 250-300m altitude. Each vineyard confers a unique character on the resulting base wine, giving Roberto a broad spectrum of styles to blend for each cuveé. It is this skilful blending, meticulous attention to detail and long bottle maturation that give Ferghettina's wines great finesse and individuality.
Ferghettina are now in the process of organic conversion.
Matteo designed the eye-catching, square-based bottle used for Milledi and Rosé Brut. First used for the 2007 vintage (released in 2011) – the triangular, flattened sides provide a surface area around two and a half times greater than that of a standard bottle, giving more lees to wine contact and therefore greater complexity.