Spanish Red Wines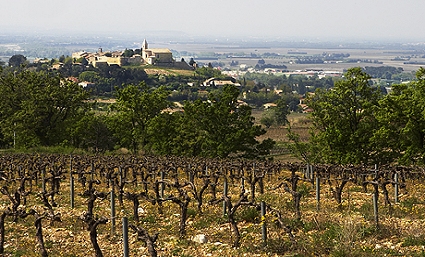 Tradition and innovation are easy bedfellows in the wine regions of Spain. As ever, we search for a combination of both styles to create our list, with quality character and value a must. The historic region of Rioja is well represented on our list with Bodegas Riojanas, Remelluri, Miguel Merino and our new star of Bodegas Martinez Lacuesta. Elsewhere, Juan Gil produces powerful and distinctive Monastrell from Jumilla. Binnissalem blaze a fine trail in Mallorca; with Bodegas Borsao in Campo de Borja, Huerta de Albala in Cadiz and Castell dei Remei in Coster del Segre adding colour and quality to our list.Cutting a dash is Jose Manuel Ortega with his fine Urban Ribera from Ribera del Duero.
Displaying 1-10 of 24 results.
Campo de Borja
(1 x 75cl)
£6.49
2016

Bodegas Borsao produce some of the best value Garnacha in Spain on the slopes of the Mancayo Mountain. áDeep, fresh, juicy red fruits on nose and palate.á

Jumilla
(1 x 75cl)
£6.99
2015

From Jumilla a delicious blend of Monastrell and Shiraz. áA ripe, spicy nose is followed by a palate of cakey, juicy fruit.á

Campo de Borja
(1 x 75cl)
£8.99
2013

From the multi award winning cooperative producer Bodegas Borsao. Deep, powerful Garnacha with warm, toasty oak and spice supporting ripe plum and blackberry fruit.

Navarra
(1 x 75cl)
£9.25
2013

Complex and spicy alternative to Rioja, from the beautiful hillside estate of Valdizarbe near Pamplona.

Jumilla
(1 x 75cl)
£9.49
2016

From the Penrubia district of Jumilla east of Alicante, 100% Monastrell from 50 year old wines. Plum, cherry and chocolate with gentle oak.

Rioja
(1 x 75cl)
£9.99
2015

Bodegas Urbina have a deserved reputation for their refined, long lived wines from Cuzcurrita in Rioja Alta

Catalunya
(1 x 75cl)
£10.25
2015

Master of wine Ed Adams and wine maker Jack Bruce team up with wineries all over Spain to create wines that each have their own identity. Catalan Eagle Red is 100% organic and displays soft, ripe, juicy red berry fruits.

Rioja
(1 x 75cl)
£10.50
2011

Cakey cherry and plum fruit with lashings of soft, vanilla oak and fresh acidity. A great value Reserva from an excellent vintage.

Mallorca
(1 x 75cl)
£11.50
2015

This is a really lovely wine from the Binissalem DO. A cracking blend of local Manto Negro with Cabernet Sauvignon, Merlot and Syrah. A fragrant red fruit nose with a fruit cake palate.

Montsant
(1 x 75cl)
£11.75
2011

Monstrant is a high Do in Catalonia, famed for red wines made from Garnatxa and Carinena. This is 60% and 35% Carinena, plus others, with 5 months in oak. A deep, cakey, bramble nose with a soft dense palate of aromatic fruit.