Southern France
White Wines of Southern France
White Wines of Southern France
Southern France produces many delicious white wines, particularly from indigenous and characterful grape varieties. From Gascogny, Ugni Blanc and Colombard dominate the excellent blends of Domaine de Pellehaut and Paul Boutinot's Louis Alexandre. From the Languedoc, Domaine Croix Gratiot produce wonderful Picpoul and Roussanne and Domaine du Poujol's Pico is a blend of Grenache Blanc and Vermintino. Chateau La Bastide produce a wonderful Corbieres from Vermintino, Roussanne and Bourboulenc, whilst Domaine de Rimauresq excellent white is 100% Rolle (Vermintino).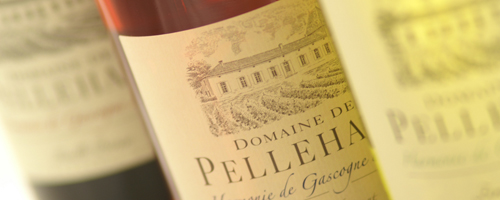 Displaying 1-10 of 17 results.
Southern France
(1 x 75cl)
£10.50
2013

Guilheim Durand has produced this stunning wine for many years. A blend of Vermentino, Roussanne & Bourboulanc

Southern France
(1 x 75cl)
£7.50
2016

Imported from the heart of Gascogny to Bridport, a fantastic blend of six varieties giving a fresh, zesty nose and broad fruit filled palate.

Southern France
(1 x 75cl)
£9.25
2016

Stunning value from the Beraut family of Domaine de Pellehaut. Beautifully ripe Chardonnay, 70% stainless steel fermented, 30% in oak. A ripe, bready, yeasty nose with golden ripe fruit and citurs acidity.

Southern France
(1 x 75cl)
£10.50
2015

This excellent wine has won many prizes all over the south of France. A delicious blend of Chardonnay, Sauvignon Blanc and Gros Manseng. Full of spicy citrus fruit and palatable acidity.

Southern France
(1 x 75cl)
£8.99
2016

From an award winning Co-op, produced from vineyards of limestone soils. A lean, citrus nose with a balanced palate of mineral and citrus fruit.

Southern France
(1 x 75cl)
£8.99
2015

From Michel Chapoutier in the Languedoc. A blend of Terret and Vermentino. Clean and fresh with lovely crisp, ripe fruit on nose and palate.

Southern France
(1 x 75cl)
£13.50
2015

From a 60ha Domaine North of Beziers, an outstanding blend of Roussanne, Carignan and Grenache Blanc. Rich, ripe apple blossom and peach with linear acidity. Brilliant!

Southern France
(1 x 75cl)
£13.25
2015

This is the top cuvee from Domaine De Pellehaut which they only make in very small quantities each year and which has been awarded 2 gold medals and 1 silver medal in 2015 competitions. A blend of Chardonnay and Petit Manseng this is one of the best value wines we have tasted in years. Ripe, tropical fruit of citrus, lychee and pineapple balanced with toasty, rich vanilla oak. An absolute must try!

Southern France
(1 x 75cl)
£9.99
2016

Golden yellow in colour, this wine has gentle spice and candied fruits on the nose. The palate is full of ripe apricot and peach flavours, with a long fresh finish.

Southern France
(1 x 75cl)
£13.00
2014

A superb and elegant wine from Berge-Bertrand. Made from Muscat a petit grains grapes grown on 30 year old vines and aged on its lees, this wine has a full and smooth texture with ripe, green and tropical fruit.