Southern France
White Wines of Southern France
White Wines of Southern France
Southern France produces many delicious white wines, particularly from indigenous and characterful grape varieties. From Gascogny, Ugni Blanc and Colombard dominate the excellent blends of Domaine de Pellehaut and Paul Boutinot's Louis Alexandre. From the Languedoc, Domaine Croix Gratiot produce wonderful Picpoul and Roussanne and Domaine du Poujol's Pico is a blend of Grenache Blanc and Vermintino. Chateau La Bastide produce a wonderful Corbieres from Vermintino, Roussanne and Bourboulenc, whilst Domaine de Rimauresq excellent white is 100% Rolle (Vermintino).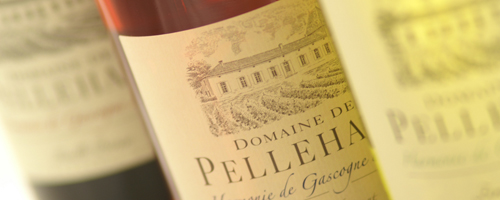 Displaying 1-10 of 16 results.
Immediately aromatic with herbaceous green notes on the nose, the palate is also fresh with hints of tropical fruits.

Light, crisp and gently aromatic, this is fabulous on its own or to accompany almost any seafood dish.

Imported from the heart of Gascogny to Bridport, a fantastic blend of six varieties giving a fresh, zesty nose and broad fruit filled palate.

A tropical nose with hints of apricot and bitter almonds. The palate is rich and perfumed with flavours of peaches, pineapples and mangoes.

Cream and honey on the nose. Great balance here: there is an underlying acidity that ensures longevity and elegance whilst intense, opulent stone fruit flavours fill the mouth without being clumsy or heavy.

A bright, lemony and densely fruity ensemble which has a long-lasting and thought-provoking caramel-imbued finish.

From an award winning Co-op, produced from vineyards of limestone soils. A lean, citrus nose with a balanced palate of mineral and citrus fruit.

From Michel Chapoutier in the Languedoc. A blend of Terret and Vermentino. Clean and fresh with lovely crisp, ripe fruit on nose and palate.

Stunning value from the Beraut family of Domaine de Pellehaut. Beautifully ripe Chardonnay, 70% stainless steel fermented, 30% in oak. A ripe, bready, yeasty nose with golden ripe fruit and citurs acidity.

Pale yellow colour with green tints. The nose exhibits citrus aromas (lemon, grapefruit) with smoky notes.The palate is fresh and very aromatic, A round mouthfeel, with great acidity (coming from the later ripening sites at higher altitude). A lot of freshness on the finish mixed with salty notes and minerality.