Chiliean White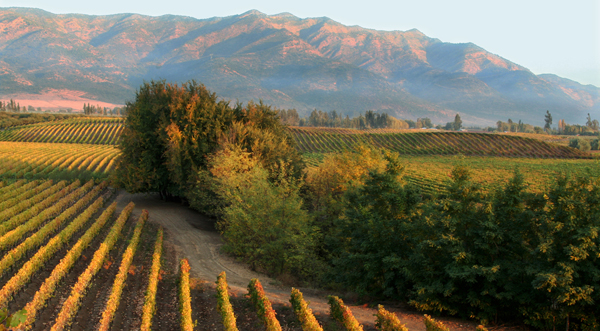 The foundations of our Chilean white wine range is also based on the excellent value wines of Concha Y Toro that are to be found in the Central Valley. They produce text book Chardonnay and Sauvignon Blanc. Alongside the same varieties under the "Andes Peaks" label from Emiliana in the Rapel Valley, they are a great source of drinking wines. Casa Silva use superb fruit in their Semillon/Sauvignon Blanc blend and peachy Viognier from the Colchagua Valley. The Centauri Sauvignon Blanc from the Maule Valley is produced by the amazing Jose Manuel Ortega. Vina Tabali in the Limari Valley produce crisp and delicious Chardon and Viognier and the outstanding Casa Marin create top class Riesling and Sauvignon Gris.
Displaying 1-10 of 16 results.
Tabali produce outstanding wine in the far north of Chile. This Muscat has ripe, tropical fruit balanced with citrus acidity.

From world renowned producer Casa Silva - this wine highlights the value on offer when you look outside of the classic Sauvignon Blanc regions. An exuberant, youthful wine with notes of lemon, mango & melon, all wrapped up with juicy, fresh acidity.

This Sauvignon Blanc sourced from the Central Valley is outstanding value. Full of crisp, ripe, tropical fruit on the nose and palate with surprising depth.

This is a great value Chardonnay full of delicious, light, peachy, fruit and balanced acidity.

Deliciously crisp and textural - leafy, lively and pure! A delicate tropical nose with hints of apricot blossom and butterscotch. The palate is balanced with delicate stone fruit and green apple with hints of poached pear. The finish has a silky texture with a touch of spice. Suitable for vegans.

Montevista is a full bodied Sauvignon Blanc produced by Emiliana. Generous ripe fruit and balanced acidity.

The multi award-winning Casa Silva are regarded as one of the best producers in Chile. This blend of Chardonnay and Semillon is delicious, with crisp, green apple fruit and a light and creamy finish.

Casa Silva is one fo teh outstanding producers of Colchagua Valley.á This late harvest wine is a sumptious blend of spicy Gewurtz and rounded Semillon.

Tierra Antica Chardonnay is unoaked, bright, and aromatic, with an a touch of melon and white peach. Notes of red apple on its long finish, luscious tropical notes.

Novas Gran Reserva Riesling is a mid-weight, medium dry wine with persistent flavours of lime, fresh and clean finish and a gentle honeysuckle flora taste. Organic certified and suitable for vegans.