Chiliean White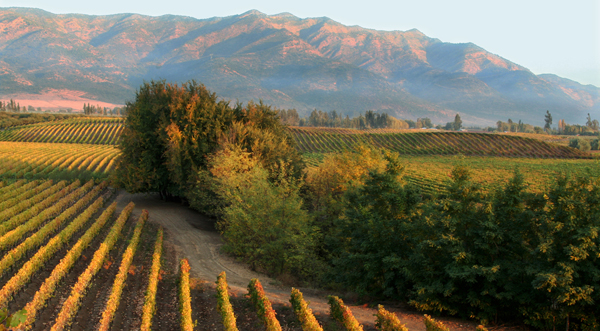 The foundations of our Chilean white wine range is also based on the excellent value wines of Concha Y Toro that are to be found in the Central Valley. They produce text book Chardonnay and Sauvignon Blanc. Alongside the same varieties under the "Andes Peaks" label from Emiliana in the Rapel Valley, they are a great source of drinking wines. Casa Silva use superb fruit in their Semillon/Sauvignon Blanc blend and peachy Viognier from the Colchagua Valley. The Centauri Sauvignon Blanc from the Maule Valley is produced by the amazing Jose Manuel Ortega. Vina Tabali in the Limari Valley produce crisp and delicious Chardon and Viognier and the outstanding Casa Marin create top class Riesling and Sauvignon Gris.
Displaying 1-10 of 12 results.
Central Valley
(1 x 75cl)
£5.99
2016

This Sauvignon Blanc sourced from the Central Valley is outstanding value. Full of crisp, ripe, tropical fruit on nose and palate with surprising depth.

Central Valley
(1 x 75cl)
£6.50
2016

This is a great value Chardonnay full of delicious, light, peachy, fruit and balanced acidity.

Maule Valley
(1 x 75cl)
£6.99
2012

From Central Valley, a ripe, tropical wine with good fruit and acidity.

Maule Valley
1 Unit

£6.99
2016

Montevista is a full bodied Sauvignon Blanc produced by Emiliana. Generous ripe fruit and balanced acidity.

Colchagua Valley
(1 x 75cl)
£7.99
2014

The multi award-winning Casa Silva are regarded as one of the best producers in Chile. This blend of Chardonnay and Semillon is delicious, with crisp, green apple fruit and a light and creamy finish.

Colchagua Valley
1 Unit

£8.00
2016

Casa Silva is one fo teh outstanding producers of Colchagua Valley.á This late harvest wine is a sumptious blend of spicy Gewurtz and rounded Semillon.

Bio Bio Valley
(1 x 75cl)
£8.25
2013

Bright lime and grapefruit pith nose, citrus oil and typical minerality that only comes from maturing Riesling. The palate has a limey richness with mineral tones and a lovely mouth-watering lime zest finish.

Colchagua Valley
(1 x 75cl)
£8.99
2016

From an excellent producer, an excellent value Sauvignon Blanc. Ripe, tropical gooseberry fruit and acidity.

Limari Valley
(1 x 75cl)
£11.25
2012

From Limari, 400km north of Santiago, a cool climate Chardonnay, eight months in oak. It has ripe fruit, minerals and acidity.

Colchagua Valley
(1 x 75cl)
£12.75
2015

Produced from the Angostura Estate, a top quality Chardonnay with ripe fruit and acidity.