Chiliean Red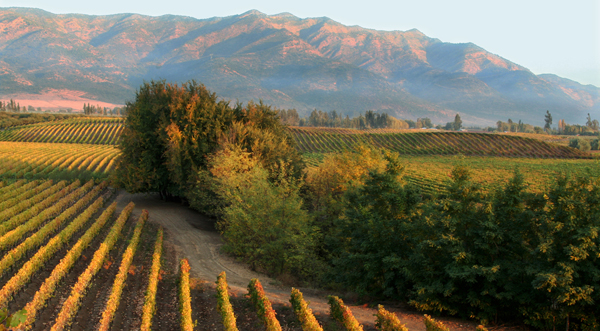 Chilean Red wines have long held an important position in our list with long ties being held with important producers. Our range consists of producers both large and small with the same aim, to produce wine of quality, character and value. Our list is built on Concha Y Toro from the Central Valley; the Merlot and Cabernet Sauvignon produced here has few competitors for consistency of quality. From the Rapel Valley we source Merlot and Cabernet Sauvignon under the Andes Peaks range from Emiliana as well as top the top quality blend "Sideral" from Altair. Cousino Macul is found in the Maipo Valley, their "Antiguas Reservas" Cabernet Sauvignon as good as ever. Vina Chocolan also hails from the Maipo with delicious fruit driven Merlot. Recent tasting has uncovered the wine of Casa Silva in the Colchagua Valley whose Carmenere is exceptional. Vina Tabali are located in the far north in the Limari Valley, an excellent source of delicious Pinot Noir, Carmenere and Shiraz. Our list is completed by Casa Marin, a true artisan producer in the San Antonio Valley, the Marginal climate producing wonderful, cool Pinots and Syrah.
Displaying 1-10 of 15 results.
An outstanding Pinot Noir from the Central Valley produced by Eric Monin. Light, fresh, red berry and cherry fruit on the nose and palate.

The product of an excellent relationship of producer and importer. Ripe, soft, juicy, red fruit with soft tannin and acidity.

From the foothills of the Andes this elegant Merlot is ripe with soft, delicious creamy fruit.

Montevista is a soft, spicy, full bodied Merlot with a blackberry and blackcurrant character. Great drinking on its own and a versatile food partner.

A ripe and smooth Cabernet with rich chinky Cassis fruit and soft tannins.

As ever, brilliant value from Casa Silva. Ripe and fine Cabernet fruit with rustic Carmenere weight.

This is a very delicious 100% Carmenere with months in French oak. Smooth, soft fruit with juicy tanins and fresh acidity.

Casa Silva have fashioned an excellent elegant Pinot Noir with bright, sappy, cherry fruit.

Deliciously dark in hue, it has aromas of green pepper and lead pencil shavings along with blackcurrant and black pepper. The palate has cool blackcurrant plus rich plum, crunchy blackberry, sweet vanilla, green pepper, herbal and violet notes.

Tabali are one the outstanding producers from Chile and this 100% Pinot is delicious. Cherry scented fruit, silky smooth tannin and balanced acidity.