Bordeaux, France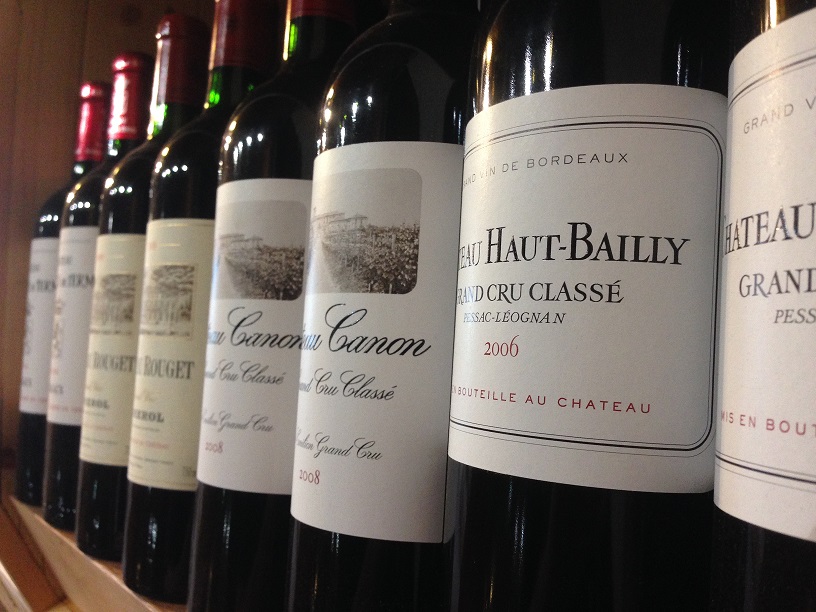 Red wines of Bordeaux, Claret as it is known by many wine buffs, has always held a prominent position at Palmers Wine Store. Using our main claret contact, Maison Sichel, we have developed a list which offers character, quality and value.

Our Chateau Marotte and Chateau Argadens are from the Bordeaux or Bordeaux Superieur appellation and offer fantastic everyday drinking. We have lovely cru-bourgeois from Chateau Devise d'Ardilley, Chateau l'Argentyre, and the highly regarded Chateau Citran from the great 2005 and 2010 vintages which offer consistently excellent wine in every vintage.

From the "left bank" where Cabernet Sauvignon predominates we offer Maison Sichel and Chateau d'Angludet from Margaux, Chateau Oliviers, a Grand Cru Classe Pessac-Leognan and the terrific Grand Cru Classe wines of Chateau Langoa-Barton from St-Julien. From the "right Bank" where Merlot is king; Chateau Siaurac from Lalande de Pomerol, Grand Cru Classe Chateau Fonplegade, and 1er Grand Cru Classe Chateau Canon from St Emilion.

We always take advantage of the En Primeur campaigns with the latest arrivals being from the fantastic 2015 vintage from such Chateaux as Chateau Lanessan, Chateau Ormes De Pez from St-Estephe, one of the original nine Cru Bourgeois Exceptionelle, Chateau Lalande De Borie from St-Julien, Chateau Fieuzal from Pessac-Leognan and the legendaary Alter Ego De Palmer which gained it's highest ever score in the 2015 vintage.
Growers
Displaying 1-10 of 41 results.
Made from 35% Semillon and 65% Sauvignon fermented in new oak and rested on their lees for several months adding texture and complexity.

An exceptional Sauterne of outstanding value from the Sichel family. A blend of 80% Semillon and 20% Sauvignon Blanc from 50 year old vines where Botrytis is encouraged to dehydrate the grapes. This Sauterne has been aged for 10 to 12 months.

Chateau Lalande-Borie is a highly regarded estate in St Julien. Started only in 1970 when Jean-Eugine Borie purchased 18 hectares of vineyard from the the 3rd Cru Chateau Lagrange.Lalande De Borie has quickly gained a reputation for producing high quality but great value wines that drink well an early age.

The 2015 vintage was particularly successful in the Sourthern Medoc and Northern Graves with the wines from Pessac-Leognan showing the harmonious fruit that the 2015 will become known for. The Fieuzal 2015 is darker and firmer than many others and is one that will prove to be very long lived, if you are patient enough to give it the time it will be well worth the wait.

Chateau Palmer is considered to be one of the most prestigious Chateaux in Bordeaux, producing wines of a Premier Grand Cru level. The 2015 Palmer was one of the highest scoring wines of the vintage, with only Chateaux Mouton-Rothchild, Margaux and Latour outscoring Palmer.Alter Ego is Chateau Palmers 2nd wine and the general rules is to buy 2nd wines on the great vintages. 2nd wines can offer great value and with the Margaux region being the star of the 2015 vintage, Alter Ego De Palmer is a very good buy. The 2015 vintage was Alter Ego De Palmer's highest ever scoring vintage and will cellar for for the next 10 to 15 years.

Chateau Lanessan is a highly reqarded estate in the Haut-Medoc that produces great value Cru Bourgeois Bordeaux. The 2015 Lanessan was named as one of the best value Bordeaux in that vintage by Decanter Magazine.

Chateau Les Ormes De Pez is one of the nine origional Cru Bourgeois Exceptionell Chateaux that are considered to produce wines of a Cru Classe level.The Cru Bourgois Exceptionell's are some of the best value wines in Bordeaux. The classification was set up to give recognition to the Chateaux that, in modern times are producing wines of an equivalent quality to the Cru Classe's that were not list on the 1855 classification. Chateau Ormes De Pez is located in The Medoc's most Northern village St Estephe which produced top wines in the 2015 vintage.

Chateau Marotte 2015 is a stunning example of the quality of fruit produced in Bordeaux in 2015. A straight Bordeaux that seriously over performs which is very hard to beat for value.

A blend of 80% Merlot,15% Cabernet Franc and 5% Cabernet Sauvignon, aged for 12 - 14 months in oak. Chateau Saint-Pey is a Saint-Emilion Grand Cru covering just 20 hectares of vines with an average age of 40 years.

This is really excellent Claret from the Maison Sichel stable of Bordeaux. A fragrant, earthy claret nose leads to a fine and generous Bordeaux fruit palate.