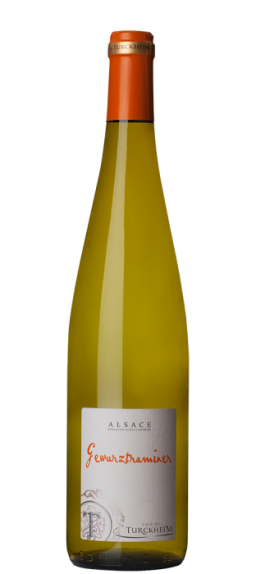 Cave De Turckheim Gewurztraminer
Region

Vintage:

2013

Producer:

Grapes:

Gewurztraminer
Wine Description:
A classic Gewurztraminer with hints of rose and white blossom aromas that give way to a delicate, dry finish. A wine like this, with spicy notes, makes a wonderful partner to spicy Asian cuisine. Cave de Turckheim is one of the top-performing co-operatives in the region.
Tasting Note:
A fantastic balance of ripeness, varietal purity and finesse with a fragrant rose water and lychee nose, lemon aromas and a steely flinty character. The palate is sweeter and richer with pure rose and faint hints of lemon. Super floral, yet perfectly balanced with honeyed, lemon acidity. An elegant wine displaying the perfect harmony of earthy, floral and honey characters.

Download full prodict details
Food Suggestion:
Try with blue cheeses, exotic cuisine such as the lemongrass flavours of Thai food or fish/chicken curries featuring ginger, mustard seed and spice...Or even desserts.